MANSFIELD, La. – DeSoto Parish voters should find out Tuesday where they will be able to cast their early votes later this month.
That's when an inspector from the state fire marshal's office will be in Mansfield to give a final walk-through of a building on Crosby Street that will be the new location for the DeSoto Registrar of Voter's office.
If it doesn't pass inspection then Registrar Amanda Raynes has plans to hold early voting in the DeSoto Parish Library, which is across the street. Early voting begins Sept. 28 and goes through Oct. 5.
The decision to move so close to an election has caused concern among some. Clerk of Court Jeremy Evans wrote letters to Secretary of State Kyle Ardoin two weeks ago expressing his opposition. Several police jurors – with Thomas Jones and Jeri Burrell being the most vocal – added their opposition. Jones and Burrell have challengers in their bids for reelection.
Raynes said the move to a larger location is necessary to handle the volume of voters – estimated to possibly reach 4,000 – who are expected to cast their ballots prior to the Oct. 12 election. It also is needed, she said, to answer complaints from voters that the small confines of her current office don't provide them with voting privacy.
The cramped space also limits the number of people who can be inside at one time, leaving the rest to line up outside in the heat or other weather conditions. Voters who are wheelchair bound or who use walkers also have complained about the lack of easy accessibility, she said.
Raynes has plans to have static and electronic signs, as well as a person stationed at her current office to direct early voters to either the new office or the parish library.
Still, Evans, who is also seeking reelection, questions if that is enough. He told KTBS on Thursday he is "110 percent" for the move to a larger location. He is not in favor, however, of doing it less than two weeks before early voting.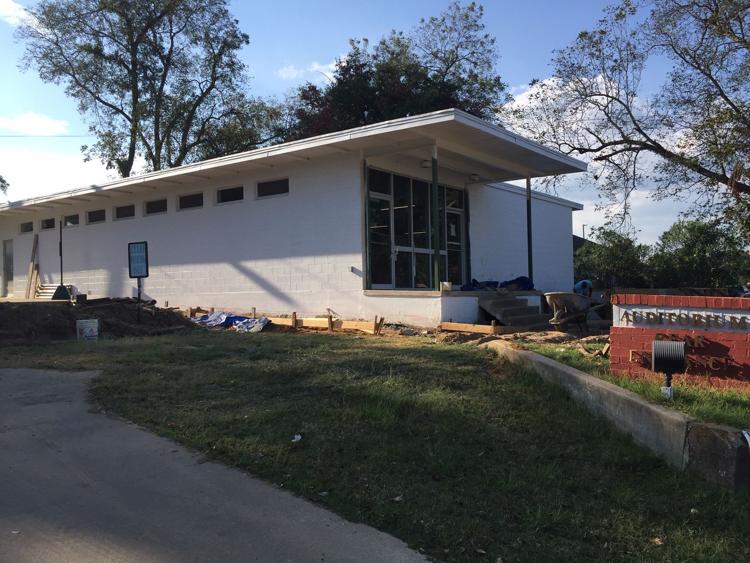 "Timeliness is what concerns me," he said, noting that notification will have to go out in a short time frame to parish residents about the office relocation. Having even one voter turned away because of frustration of not finding the new voting spot is one too many, he said.  
Raynes had hoped to move into the new space – known to locals as the old library or old extension office – before now. However, an unscheduled fire marshal's inspection on Sept. 4 noted a handful of deficiencies that parish Administrator Steve Brown calls minor.
"Nothing major needs to be done. The contractor said he'd have it done in a week," Brown said earlier this week.
Brown is still trying to get to the bottom of how the fire marshal inspector showed up a day ahead of time without notification to him, as the point-person for the Police Jury, nor the architect. Attending the inspection was attorney Bryce Denny, who stood in for Evans at a Police Jury meeting later that day.
Brown and the architect had scheduled the official inspection for Sept. 5 and were unaware "someone from outside of our agency" got him there a day early. 
"The inspector's boss told the architect that a woman claiming to be the owner's representative contacted the fire marshal's office and requested the inspection," Brown said. 
That's just one of many somewhat controversial moves connected to what is typically a mundane office relocation. There was so much back-and-forth discussion about Raynes' legal authority to even relocate that Ardoin attended a special Police Jury meeting on Sept. 4 to weigh in and support Raynes.
Since the new location is parish-owned Raynes does need the Police Jury's permission to move there. But Ardoin pointed out his office's legal research and input from the state attorney general's office indicates Raynes has the authority to select the site for early voting.
The discussion did not prompt a vote from the Police Jury then. On Monday, during the Police Jury's monthly meeting, Thomas Jones again brought up the matter and passed out copies of state statutes concerning offices furnished by the parish governing body. He echoed sentiments from the previous week, saying the Police Jury oversees the buildings and is the only one to say who can move.
"Don't be misled. We are the sole authority. She can't move around at will," Jones said.
Fellow jurors took no action after his presentation.
But on Tuesday, Jones emailed a letter to Raynes telling her, in part, "your office should remain in the current location that has been allotted." His reason is because the Police Jury, according to him, did not give her prior approval to move.
Police Jury President Reggie Roe disputes Jones' claiming, pointing to minutes of prior Police Jury meetings in which moving the registrar's office was discussed and approved. In January, the Police Jury approved the annual budget, which included $450,000 for improvements to the "old library" and the tax assessor's separate building.
That followed a unanimous January 2018 vote – when another registrar was at the helm -- to move the Police Jury's Human Resources director into the registrar's space when other building became available.
Meanwhile, the Secretary of State's office is paying off-duty sheriff's deputies to provide 24-hour security at the new registrar's office until it is occupied. The move is to ensure there is no other unauthorized entry into the building since some voting equipment has been moved inside.