SHREVEPORT, La. -- The greatest gift of all is to see someone you love smile. That's what fuels the Christmas shopping frenzy. 
A smile for Christmas takes on another meaning for 14-year-old Mikhi Reed. When he was asked what he wanted for Christmas, at first he wasn't sure.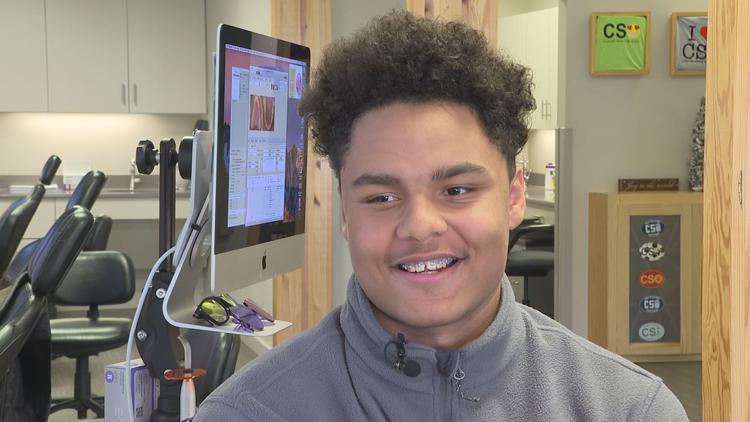 Then he told his grandmother the one thing he had been wanting for years -- to have his teeth straightened. It's something he's wanted since the third grade.
"I took speech classes and I didn't know how to place my teeth because I didn't have braces. And they told me I would speak better if I had braces," says Reed.
So when his grandmother, Lynda Reed, asked what was on his Christmas list, Mikhi Reed said, "I thought about it for a minute because I hadn't made my mind up. And I said, 'Can I have braces?'"
"I said I'll see what I can do if that's what he wants," said Lynda Reed.
Mikhi Reed went to live with his grandmother in Minden about a year ago.
"He has the biggest heart; he has a huge heart," said Lynda reed.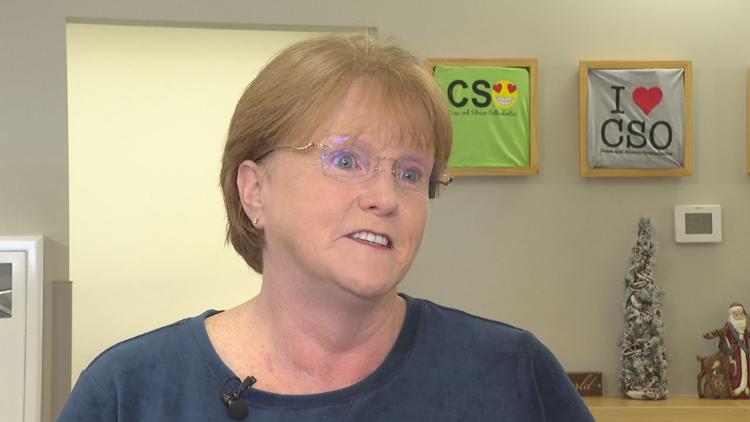 He's a big guy, 6 feet, 2 inches tall and 260 pounds with big dreams of one day playing in the National Football League. As a freshman, he's a defensive lineman on Minden High School's varsity team.
Off the field, he's quiet.  It's how he compensates for his mis-aligned teeth. 
"He had hid it from his teacher that he couldn't speak right," said Lynda Reed.
"He was having trouble speaking. He was having trouble chewing, although you can't tell because he a huge guy," said orthodontist Chris Cosse.
Hoping to fulfill his Christmas wish of a new smile, Lynda Reed took her grandson for a consultation at Cosse and Silmon Orthodontics.
Mikhi Reed's case is complicated, Cosse said, adding, "He's going to have to have several different things, several different appliance to make his arch a little wider."
Lynda Reed set up a GoFundMe page to help with the expenses. Bu she had a long way to go to her goal of $7,000. 
Then something amazing happened.
"On Facebook one of my friends sent me a message and said, 'How can we help this guy?'" said Cosse.
Cosse called his business partner, Dr. Jeff Silmon.
"Yes, let's do it," was Silmon's reply.
The staff called and asked the Reeds to come to the office. They didn't tell him why. Mikhi thought it was a regular office visit.
He was he wrong.
"I said, 'We want you to smile for Christmas too. We're giving you free braces,'" recalls Cosse.
"And then I said, 'Baby we got it. We got your braces,'" Lynda Reed said.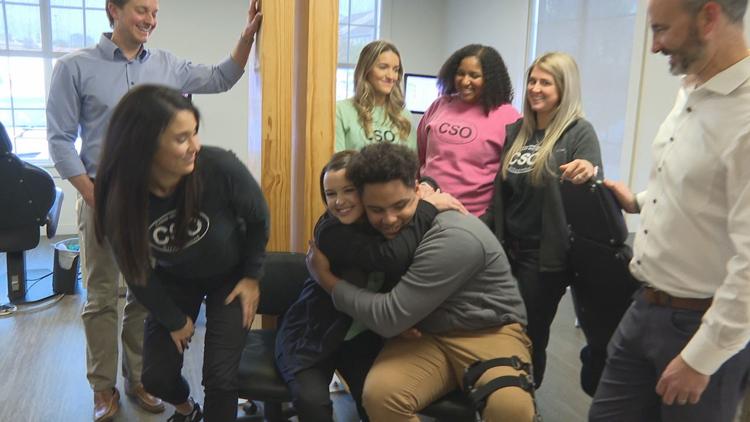 "I'm not going to lie, I did cry," Mikhi Reed admits.
The entire staff was in on the Christmas surprise.
"I think it's going to be good for him and his confidence. He seems like a young man who's going places," adds Silmon.
Mikhi and Lynda were blown away by the kindness of strangers. "I haven't seen his smile as much as I have this week," Lynda Reed said.
It's a Christmas gift Mikhi Reed will always remember.
"I hope the God blesses every one of them. I can't thank them enough," Lynda Reed said.
"Giving has a way of coming back to you," adds Cosse.