SHREVEPORT, La. -- The Shreveport Fire Department is tamping down racial controversy over Facebook posts and comments from some of their own, amid fallout from the death of George Floyd when he was arrested in Minneapolis.
One post, according to a source, is by firefighter Byronesha Santiago, who goes by the name "Bee TheFuture" on Facebook. She posted in response to President Donald Trump's tweet that when the looting starts, shooting starts.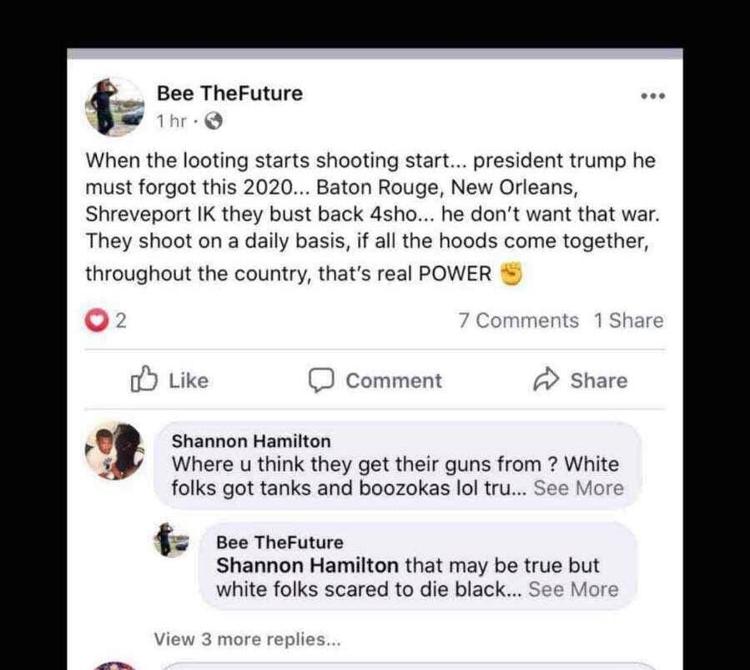 Santiago and a fellow African American firefighter, Shannon Hamilton, discuss a "war" between the races with weapons. She said that in Louisiana cities, like Shreveport, "They bust back. He don't want that war."
Santiago told Hamilton in comments, "We will see when it all pop off and see what side you stand on. I'm standing with my brothers 4sho."
In a separate post of his own, Shreveport Fire Engine Captain Barry Seidel used vulgarities to describe the Black Lives Matter movement. He attached a picture of a firefighter memorial in Rochester, New York, that was apparently defaced with the letters BLM in spray paint.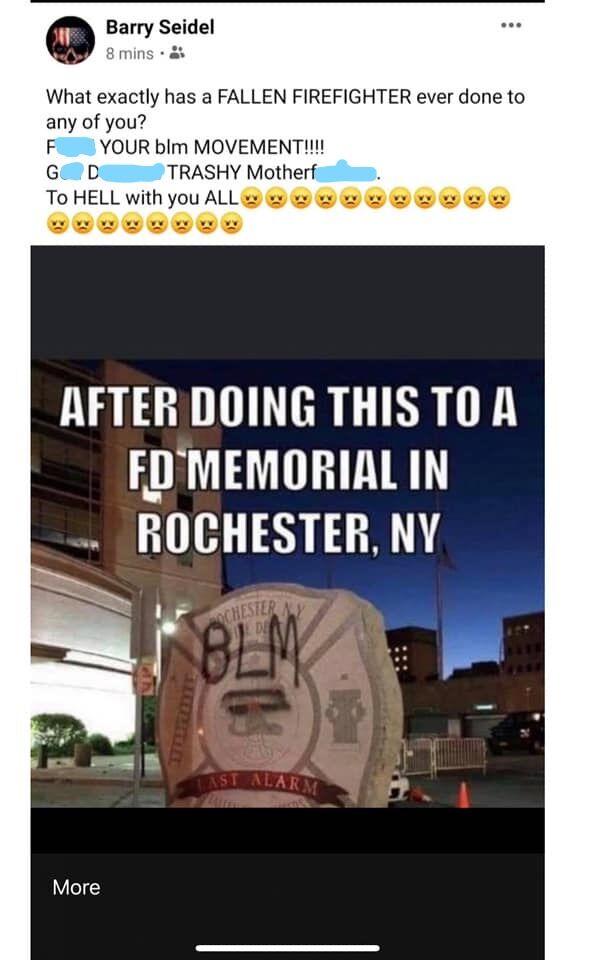 Seidel wrote, "F--- YOUR blm MOVEMENT!!! G-- D----- TRASHY Motherf------. To HELL with you ALL."
KTBS wanted to know if those firefighters face any disciplinary action, if the fire department is re-enforcing a social media policy and what is being done to protect everyone at the department. But an interview with Shreveport Fire Chief Scott Wolverton was denied.
Instead, KTBS received a brief written statement from Assistant Chief Fredrick Sanders, saying his "Shreveport Fire Department Administration Division is aware of alleged Facebook post by Fire Civil Service employees and all investigations will be initiated and conducted within the requirements of Civil Service Law."
When pressed for more, Sanders replied, "The public's need and right to know without the Administrator adhering to every step in the process could be a potential violation of the Fire Fighters Bill of Rights thusly potentially causing any action taken by the Administrator to be potentially overturned."