A $3 million renovation to the former Avaya/ATT facility on Mansfield Road brings new life to southwest Shreveport as a new tenant bringing 10 jobs sets up shop in the massive space. 
The announcement made Wednesday by Vintage Realty Company and its agent Anne Dixon included a tour of the plant that's undergone extensive renovation.
The work included removal of almost 200,000 square feet of what the owners called "unnecessary, outdated office space," along with the addition of a new roof on a portion of the building, replacement of the majority of overhead doors, updated sprinkler systems, addition of energy efficient lighting, re-installation of secure fencing, redesign of bathrooms/break areas/office space and more. 
PROPERTY HISTORY
Most who grew up in the ArkLATex will remember this property that was originally built as a Western Electric payphone manufacturing plant. In its heyday, the plant employed almost 8,000 people.
Then, the building included a full cafeteria, integrated redundant power and water sources and ran multiple rail spurs on-site.

It changed ownership through the years and became known as the Avaya Plant, which was an ATT spinoff, before telephone production that ceased in 2001 led to the the plant's closure.
When Hurricane Katrina pushed movie production to North Louisiana, the expansive property became home to the movie industry for many years afterwards. The parking lot was filled with small mobile homes and RVs used by those employed with movie/television productions. Then that industry, too, fell to a trickle and ceased operations there. 
The most recent occupancy is SkyRunner, which in December 2014 found its home in the northeast corner of the facility in to build its FAA-certified, special light-sport aircraft that is fused with a military grade all-terrain vehicle.
The property provides immediate access to U.S. Highway 171 with six two-lane entrances – three from Baird Road and three from Williamson Way. In addition, three rail spurs are available.
The facility has been renamed the Mansfield Warehouse consisting of more than 800,000 square feet of warehouse space sitting on approximately 120 acres with an additional 30 acres to the east of Interport Drive. The property also offers 107,300 square feet of secure basement space equipped with its own loading dock.
NEW TENANT
The new tenant is The Warehouse Center, a locally owned warehouse and logistics business. It's expected to add new jobs in the next 60 days, according to Dixon who signed a lease deal for 259,200 square feet.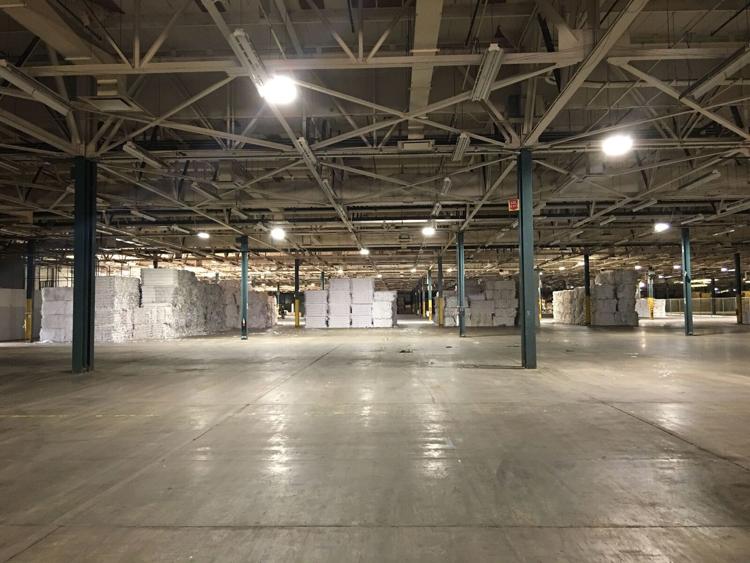 The individuals and companies involved in the renovation committed several years ago to explore all options to improve the property and pledged to get this "old jewel" back into commerce.