UPDATE:
Funeral services have been set for Deputy Donna Richardson-Below, who died Wednesday morning in a two-vehicle crash while on duty in DeSoto Parish.
Wake Service:
Friday, Feb. 21 from 6-9 p.m.
Restoration Apostolic Ministries
175 Fairgrounds Rd., Natchitoches
Funeral Service:
Saturday, Feb. 22. at 11 a.m.
Temple Baptist Church
1515 S. Service Rd. W., Ruston
Burial Service:
Following funeral at New Pilgrim Rest Cemetery
Arcadia
(Google address is incorrect, please follow procession)
Repass Service:
Following burial at Arcadia Events Center
630 Factory Outlet Dr., Arcadia
ORIGINAL STORY:
ARCADIA, La. - Family and fellow DeSoto Parish deputies are remembering one of their own.
On Wednesday, a motorcade of more than 30 DeSoto Parish sheriff units traveled 85 miles in the rain to bring a fellow deputy home.
"We're going to really miss her," said the victim's cousin, Gloria Scruggs.
Deputy Donna Richardson-Below, 43, was on duty Wednesday morning when a Jeep driven by Richard Wimer of Stonewall crossed the center line and hit her. She was pronounced dead at the scene.
RELATED ARTICLE: DeSoto sheriff's deputy dies in two-vehicle crash
"She was a stranger to no one," Below's sister, Michelle Richardson. "She would give you her last."
Below is from Arcadia. That's where the procession ended coming all the way from DeSoto Parish, through Shreveport, to bring her body to the Paradise Funeral Home.
"We gave her to them, but they brought her back to us," Below's cousin Shelia Frazier said.
Her family tells KTBS Below didn't have any children, but she did have a lot of nieces, nephews, sisters and cousins. Below also had her mom. According to one of her cousins this is her mom's sixth child that she's lost.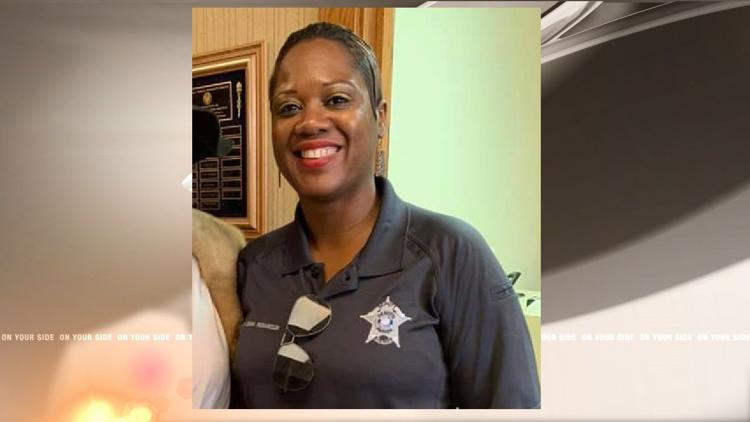 "And by the grace of god, she has a smile on her face," Frazier said referring to Below's mom. "I don't know how she's still holding on."
Her family says Below was made to have a career in law enforcement.
"She was very bossy, but in a good way," Frazier said.
And she died doing what she was put on Earth to do.
Below joined the DeSoto Parish Sheriff's Office in January 2019. Before that, she was an agent with Louisiana Probation and Parole.
The family says that they are planning two memorial services for Below. Funeral details are still pending.