UPDATE posted Friday 10:05 a.m.
SHREVEPORT, La. - A Caddo District Court judge has temporarily stopped enforcement of Mayor Adrian Perkins' face mask mandate. 
Judge Craig Marcotte granted a temporary restraining order in response to an injunction filed Friday morning by four Shreveport business owners who allege Perkins does not have authority to issue an order requiring face masks.
The court order stops Perkins from enforcing the order, conducting any searches or taking action against businesses. Perkins has until 5 p.m. July 16 to respond. The plaintiffs are given until 5 p.m. July 17 to reply. 
A court hearing is set for 9:30 a.m. July 20 to determine if the temporary restraining order will be converted to a preliminary injunction. 
The businesses filed their lawsuit Friday morning in Caddo District Court. The want the judge to block Perkins' requirement that face masks be worn in all businesses in the city.
Violations are assessed to the businesses, which face being shut down, having their water turned off or loss of liquor licenses if applicable. The order went into effect at 5 p.m. Wednesday.
The Caddo Parish Commission approved a similar mandate Thursday to be effective at 5 p.m. today in unincorporated areas of the parish. It's not affected by Marcotte's court order.
The Shreveport lawsuit's plaintiffs are Strawn's Eat Shop Too, Air U Shreveport, The Brain Train and Bearing Service & Supply. 
Monjuni's of Portico was listed as one of the original plaintiffs; however, the owner, Richard Taylor, Friday afternoon told KTBS he is not a party to the lawsuit. He did not sign the affidavit included in the lawsuit. The other store owners did.
The lawsuit alleges Perkins has no authority to "command any conduct by citizens." His order is not authorized by state law and is contrary to the Shreveport City Charter, and there is no authority that authorizes Perkins to impose penalties for violations, the lawsuit states. 
The lawsuit cites information from medical professionals in February, including the U.S. Surgeon General, who said masks are not effective in preventing the general public from catching the coronavirus, and Dr. Mark Ryan, World Health Organization executive director, who was quoted as saying there is no specific evidence suggesting the wearing masks has any "potential benefit." 
The CDC reversed course in April, according to the lawsuit, recommending the wearing of face cloths when in public, but making it clear that was only a backup to proper social distancing. The plaintiffs fast forward to July 6, when Perkins held a news conference with Dr. Martha Whyte and announced his executive order for face masks. 
During the news conference Perkins did not identify a legal basis for his order, "implicitly acknowledging the political implications of his order" by claiming his order "is not about politics." 
The lawsuit also quotes Whyte from the same news conference who echoed Perkins by saying the mask mandate was "not a political issue." But the plaintiffs say Whyte undercut any claim of emergency or imminent threat by acknowledging "right now, we're ok in Region 7 as far as our ICU and our vents because ... there's been a change in the way we treat people, and also we have younger, healthier people who are getting sick right now."
Plaintiffs want Perkins to issue a public statement that his order is "unenforceable" and that he has "no authority to issue executive orders enforceable by civil or criminal penalties." 
At 11 a.m., Perkins posted on his Facebook page: "We are putting billboards up around town to remind everybody to #maskup when they head out. We want to thank our partners over at DigiVision Billboard Network for donating the space."
U.S. Rep. Mike Johnson, who was the first to publicly disclose the lawsuit in a social media post Thursday night, added to the discussion even more Friday morning, saying the controversy over the mayor's order is not about whether wearing a mask is a "wise and appropriate step" but questions if city's executive can use "draconian measures (e.g., cutting off a water supply) to penalize businesses and churches—that are already down on their backs and struggling to survive—if they do not 'fully comply.'"
Added Johnson: "I think the answer to that simple legal question is NO, because such measures clearly violate the constitutional guarantees of due process and equal protection, and no provision of state or local law allows such unilateral action. (In fact, existing state law directly contradicts the language of the Executive Order.)."
ORIGINAL STORY posted Friday at 5:08 a.m.
It is a battle of political ideologies on Facebook between two area politicians, U.S. Representative Mike Johnson and Shreveport Mayor Adrian Perkins.
RELATED ARTICLE: Shreveport mayor discusses mask mandate on First News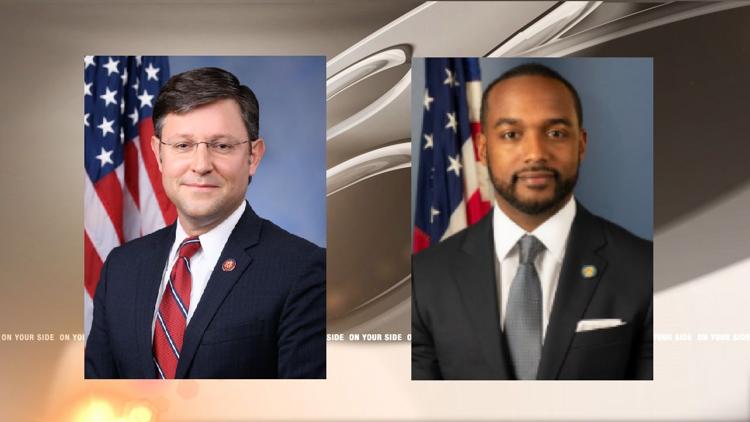 In a Facebook post regarding the mayor's mask mandate, Johnson posted this message in part, "Although it is a good idea to encourage everyone to wear a mask, I do not believe the mayor has the legal authority to force private citizens to do so. A lawsuit will be filed tomorrow (Friday) challenging the mayor's overreach, And the plaintiffs should easily prevail. The maintenance of public health is critically important. But so is the defense of the constitution."
Perkins responded on Facebook saying, "My only focus is on saving lives and preventing another shutdown. As mayor, I don't have the luxury to sit in Washington D.C. and play political games Congressman Johnson."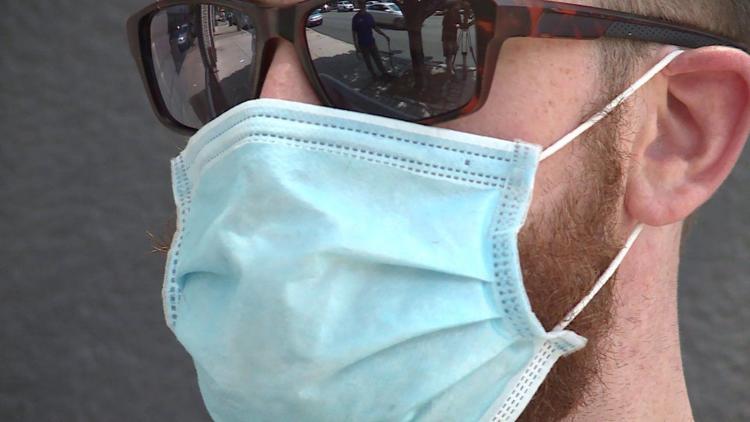 Wednesday, Shreveport became the latest area to issue a mask mandate, following the city of New Orleans, Jefferson Parish, and East Baton Rouge Parish. Other leaders, including in Lafayette Parish, have said several times that they have no plans to implement mandates. 
Gov. John Bel Edwards reiterated in a press conference Wednesday that he is not considering a statewide mandate.
Stay with KTBS 3 on air and online for updates to this developing story.