SHREVEPORT, La. - Cleanup at a homeless camp under a Shreveport bridge was completed Friday.
The homeless were asked to move out of their makeshift camp site earlier this week and the cleanup started Wednesday.
The camp was located under a Mansfield Road overpass.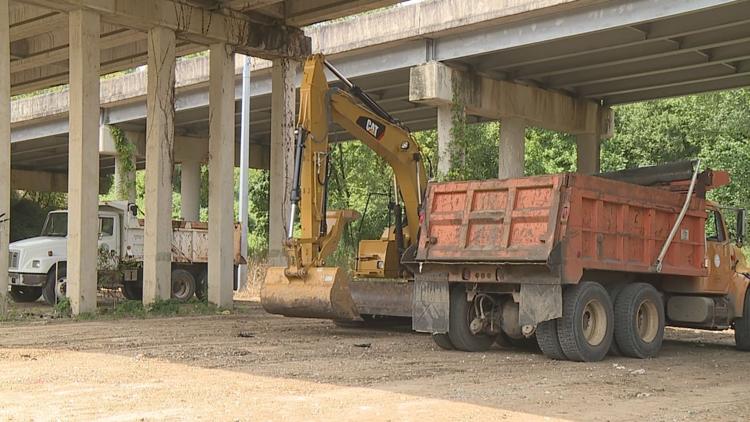 "There were lots of piles of just debris and trash tires that sort of thing. So, it really is an area that needed to be cleaned up anyway," Erin Buchanan, spokeswoman for the Louisiana Department of Transportation and Development, said.
Shreveport police said efforts to clean up the camp site started after the Union Pacific railroad company reached out to the state about the site they were seeing under the bridge.
The Salvation Army is one of many organizations that works to help the homeless.
Jamaal Ellis, a corps officer at the Salvation Army, said he did not know if they were helping anyone of the camp.
"As far as where you come from, how you got in this situation, that's not something that's going to make a difference as to whether or not you can stay in our shelter," Ellis said. "We do have social workers and case managers that try to help people get on their feet, and kind of get from that crisis situation to a more self sufficient position in life."
 Ellis said his organization is finding more people asking for help as the temperature rises.
"The last several days our shelter has been almost at capacity. Whenever we get that extreme temperature, whether it's extreme heat or extreme cold weather the shelter fills up. And our staff is aware," Ellis said. "Even when we're out of beds, we have cots, we have space in the building, if we can get you out of the elements and into a place where there is some air conditioning, we're going to try to do that."
Police said officers were not sent to the camp to help clean up the site. Instead they were there for security purposes. They said one person was arrested for refusing to leave the camp.
It is unknown how many people lived at the camp site.