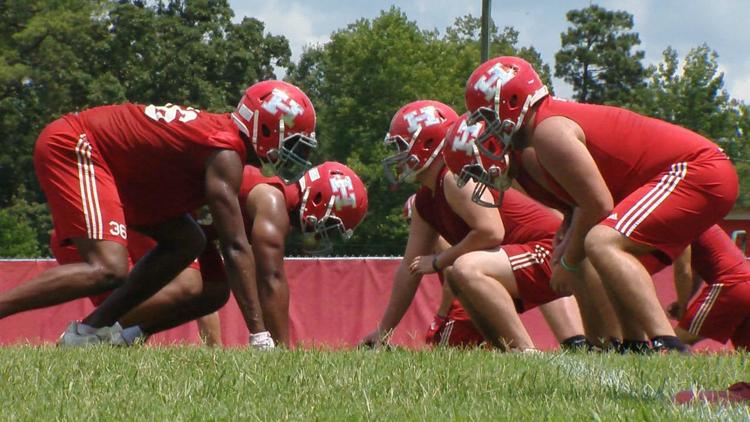 With a wide open district race, and play makers across the field hope are high in Haughton.
Head coach Jason Brotherton says the excitement is building in the small town, "Our community is excited, our fans are excited, and our school is excited.  That's a good thing.  It comes with pressure and expectations, but I've said over and over the past few weeks it's good when people think you're going to be good.  It's not a good feeling when everyone thinks you're going to be bad."
The anticipation for the upcoming season is also building through the roster, "We've got some big expectations to live up to, but every night we've got to come out and play our type of football," said quarterback Peyton Stovall.
"We've got natural born talent out here. I just feel great about the season," added wide receiver Tristan Sweeney.
The Buccaneers won their last district title in 2010, when Dak Prescott was the quarterback. Brotherton says this year's offense could be even better, "Skill position wise, I think it's probably the most talent we've had. There may not be the depth there that you want, but starting eleven, I feel like it's as good as we've ever been."
"It's scary how good they are going to be. There's so many threats on that side of the ball. It's so hard to stop," added linebacker Jake St. Andre.
Junior quarterback Peyton Stovall has the keys to this explosive offense with Brotherton adding his biggest challenge will be keeping all of his playmakers happy.  It's a task he will gladly handle after his sophomore season was cut short by a shoulder injury in week 7, "It was a heartbreaker to all of us. Him having as good of a year as he did, that type of athlete out there, he's hard to replace," said St. Andre.
"I know and our team knows we were hitting on all cylinders when he got hurt. That was the Shreve game, we scored a lot of points against a really good team. CJ did a great job, but it's different," explained Brotherton.
"Having to go out there and watch my brothers and my team play on the field every Friday night without me in some situations that I wish I could get out there and help my team win. It really hurt me, really upset me not being out there. I just kind of carry it into this year, play with a chip on my shoulder, try to build on that, and get better this year," said Stovall.
Stovall and the Bucs finished 8-2 last season.