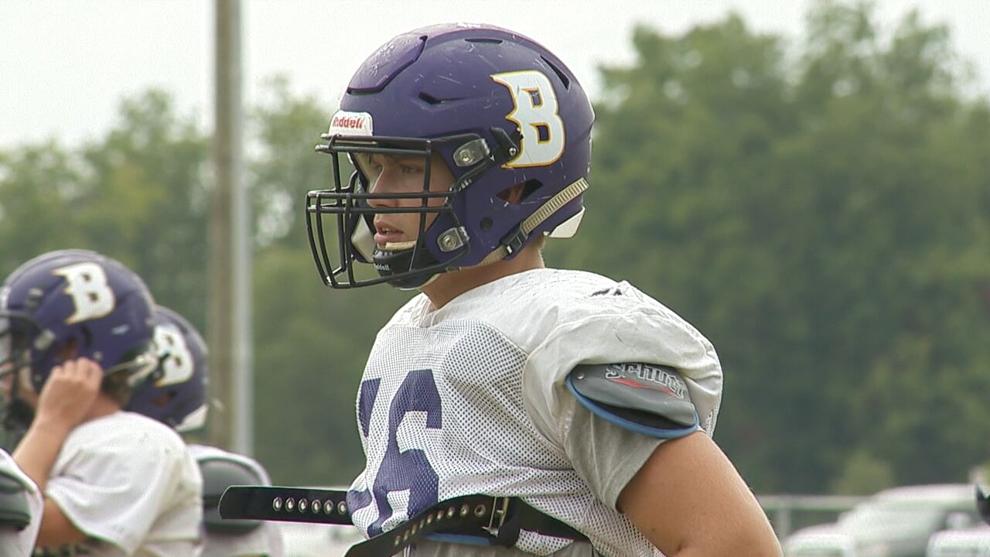 Listed at 6'3" 225 pounds, Benton's Davis Sellers is the prototype football player, but he knows grades are what's going to take him far beyond the gridiron.
"You never hear somebody say athlete-student, it's always student-athlete. So, the classroom comes first and coach (Reynolds) Moore, puts a lot of pride on that and he's always telling us to keep up with our grades. You can't play football if you've got bad grades and so you know it's pretty important for us."
His head coach Reynolds Moore says he may not be the most vocal player on the Tigers roster, but his example is a good one for others to follow.
"We lift three days a week in the summer and he lifts five days a week and I've seen that even in my own house. When RJ (Moore's son) loading up and I'm like 'where you're going?' [RJ says] 'I'm going to work out with Davis.' And Andy [Lim]'s going with Davis and he's creating better work habits and work ethics in other players, even some other seniors, not just the younger guys."
With a 4.1 GPA and a commitment to Harding University, Sellers has a clear idea about his future with plans to major in strength and conditioning and a minor in business.
"I want to be a strenght coach first, kind of like to build a resume and the plan is to hopefully have my own gym and training facility one day."
If he decides to follow that path, Coach Moore says he'd love to have him back in the fold.
"He's one of those guys that I think if you didn't have a spot for him when he came back, you would certainly recommend him to anybody who asked, but a little bit begrudgingly because you don't want him to going somewhere where they're playing against you or coaching against you."
Besides science being his favorite subject, Sellers says the outdoors is something he enjoys in his spare time.
"We (my family) went to Key West over the summer and we went spear fishing and we shot some grouper. That was pretty fun and then a couple of seasons ago, I shot the biggest buck I shot in my life. It was a nice eight-point. It was a pretty good buck."
Sellers is one of a handful of scholar athletes recognized by the National Football Foundation's McNaughton Chapter.  Each week we will select a player from their Scholar Athlete Watchlist to be named our Griffin's Player of the Week.
Sedric Applewhite Jr., WR/DE, Bossier High School
Tonzaiha Bland, OL/DL, Logansport High School
Graeme Fidelak, WR, St. Mary's High School
B.J. Green, DB, Ruston High School
Connor Heard, OL/C, Minden High School
John Jordan, DB, C.E. Byrd High School
Kelvin Kinney, QB, North DeSoto High School
Gavin LaGrange, OL/DL, St. Mary's High School
Brayson McHenry, QB, Texas High School, Texarkana
James David Miller, OL/DL, Ouachita Christian High School
R.J. Moore, WR/K/P, Benton High School
Mitchell Ramsey, RB, Byrd High School
Carson Riley, LB/OT, Cedar Creek High School
Jatareon Robinson, LB, North Webster High School
Davis Sellers, DE/TE, Benton High School
Seth Smith, OG, Cedar Creek High School
Tyler Sullivan, WR/DB, Plain Dealing High School
Ryan Todd, DB, C.E. Byrd High School
Tristan Wiley, WR/DB, Ouachita Christian High School
Jed Worthy, CB/TB, Cedar Creek High School
This Watch List will be updated weekly throughout the season as nominations are received. Additional nominees may be submitted by text to NFF board member Doug Ireland at 318-471-2086.