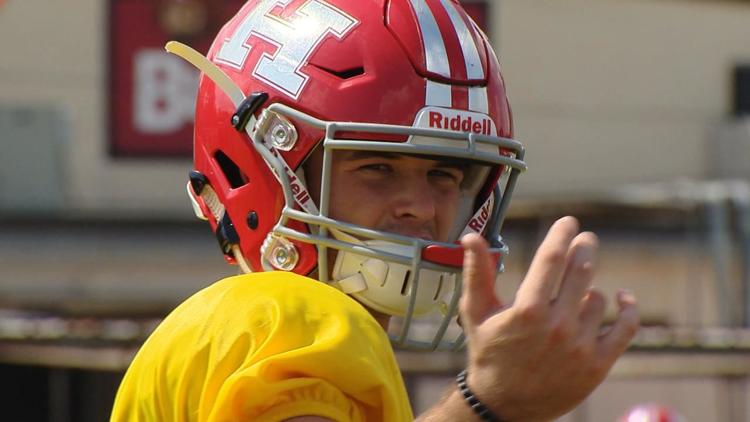 The Haughton Buccaneers are viewed by many as a team to beat in 5A.  This week they have a chance to prove it.
The Bucs will welcome East Ascension to Harold E. Harlan Stadium Friday.  The Spartans defeated defending state champions Zachary in week one.
Both the Spartans (5) and the Buccaneers (10) are in the top ten of the LSWA Football Polls this week.  It's the first time since joining 5A that Haughton has cracked the top ten.
Haughton head coach Jason Brotheron says the excitement can be felt around the small town, "What a great opportunity to put our school and our program on the map.  I don't know if a lot of people are expecting us to win, but out here we expect to win the game."
Outside linebacker Dylan Turner has been fielding questions from people around town all week.  Mostly about the status of starting quarterback Peyton Stovall, "People are really excited.  I get a lot of questions if our quarterback is starting, if our quarterback is playing.  It's going to be a real big game.  Everybody needs to come out and watch."
Brotherton says Stovall will be good to go Friday night after he sat out the Bucs season opening win against Red River.  His absence from that first game was seen more as a precautionary measure and the Bucs believe he's good to go against the Spartans.
With the excitement high and their quarterback back under center, the Buccaneers are taking exception to the underdog role being placed over them, "Our kids think they can beat the Dallas Cowboys and they are the greatest team in the world.  They can't believe that everybody considers us an underdog here.  That's a good thing.  You'd rather have a team that expects to win than one that expects to lose.  They feel disrespected and they're ready to get out and play."
See if the Buccaneers can prove the doubters wrong and make some noise in 5A this week during the Landers Friday Football Fever Scores and Highlights Show when it kicks off Friday at 10:30 on KPXJ CW 21.