SHREVEPORT, La. -- Three candidates -- two Democrats and one Republican -- want to be your next Caddo District Court judge.
Shreveport attorney Mary Winchell, a Democrat, explained why she is is a candidate for judge: "You know, the timing's right. Also, the next elected judge is either going to be assigned to either the criminal or family division."
Those are qualifications Winchell feels are right up her alley.
"Because of the amount of criminal work I've done – criminal defense work -- and the amount of family work, I think that's what you should look for when selecting a judge," Winchell said.
And Winchell says the diverse background of her clientele is a plus.
"I have represented people from every socio-economic background, educational level. I've represented the LGBTQ, I've represented people from various religious backgrounds," she said.
Because of COVID-19, Winchell has found campaigning difficult as she's had to rely upon social media. But she said voters have been curious.
"They want to know exactly what my platform is, what is it I intend to do," Winchell said.
And she has lots of ideas.
"I would like to implement some type of mediation program for self-represented litigants," said Winchell. "Establish a mental health court; it would be for people who have misdemeanors or non-violent offenses."
And for those who have exhibited more violent tendencies, Winchell would like to identify the issues leading them to their crimes.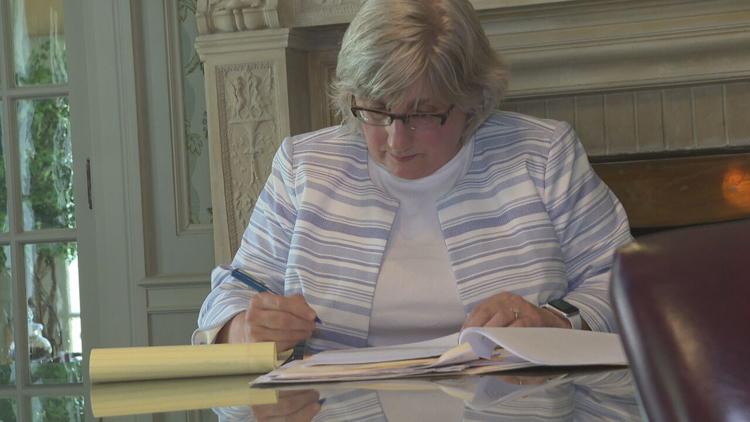 "It doesn't excuse them," Winchell said. "But it may help you decide, okay, how can I structure a proper sentence to hopefully help them not do it again?"
She also has some thoughts on how judges should behave on the bench.
"You want to make sure they're going to be fair and impartial. You want to make sure they're going to exercise sound judgement and also treat everybody equally," Winchell said.
Among various other activities, Winchell has served as president of the Shreveport Bar foundation pro bono project, providing legal services at no cost.
Winchell is joined by candidates Edwin Byrd and Chris Victory in vying for the 1st Judicial District judge seat. KTBS will feature Byrd Wednesday night and Victor on Thursday.