SHREVEPORT, La. - Two law enforcement officers were honored today as the 2019 recipients of the Trey Hutchison Award, and a civilian was also recognized as the recipient of the Charles Rex Scott Civilian of the Year Award.
Lt. Dan Wolff of the Bossier Sheriff's Office and Det. Demetrice Adams-Ellis of the Caddo Parish Sheriff's Office were recognized for their outstanding performance in the field of domestic violence prevention during the 16th Annual banquet held at Ernest's Orleans Restaurant in Shreveport at lunchtime Friday.  Daisy Combs, affectionately known as Ms. Daisy, has been working with domestic violence victims for about 25 years, and today, she was honored with the Civilian of the Year Award.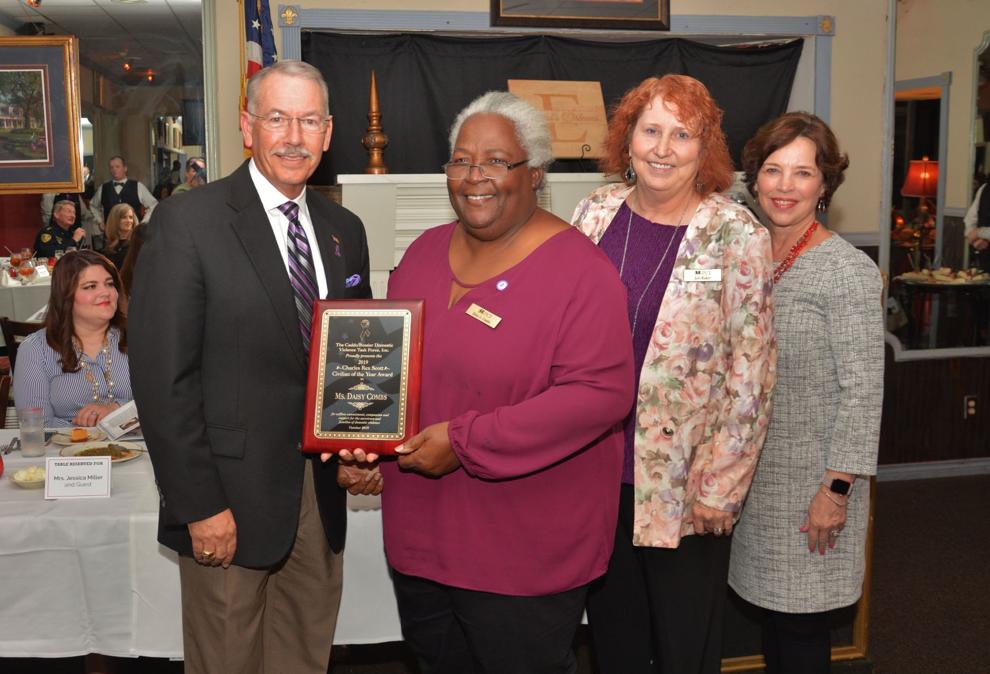 The Caddo/Bossier Domestic Task Force, Inc, hosted the banquet, honoring the namesake of the award of Bossier City Police Officer Trey Hutchison, who was killed in the line of duty in August 2004 as he responded to a domestic violence call. The Charles Rex Scott award is named for the late Caddo District Attorney who was a protector of the rights of domestic violence victims.  The award is presented to a recipient who has made an impact on the cause of domestic violence.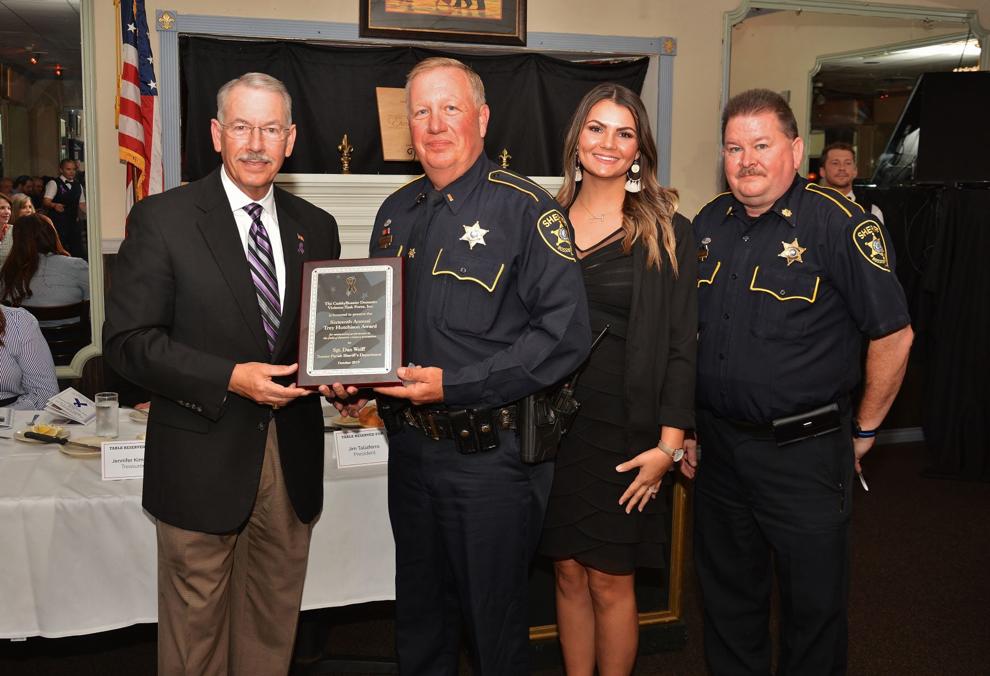 Lt. Dan Wolff – Bossier Sheriff's Office
"I am quite honored," said Lt. Wolff, who attended today's ceremony with his daughter, Trista Jamar.  "This hits me personally, because in 2004, I was a Bossier City Reserve Officer serving half-way around the world in Guam while in the Air Force.  When I heard of the news of Trey's passing, I wanted to be there for my fellow officer.  So to get this award with Trey Hutchison's name on it gives me a chance to think about him consistently when I do my job."
Chief Deputy Duane Huddleston of the Bossier Sheriff's Office has been serving in law enforcement for 36 years, and he says the focus of helping domestic violence victims and survivors has come a long way.
"It's amazing how far law enforcement has come since I first started," Chief Huddleston said.  "We have moved from taking reports and making arrests to actually trying to become the true guardians of all victims of domestic violence.  It's not just law enforcement, but so many other agencies and organizations, but the goal is all the same – to protect the victim and show we are here for them."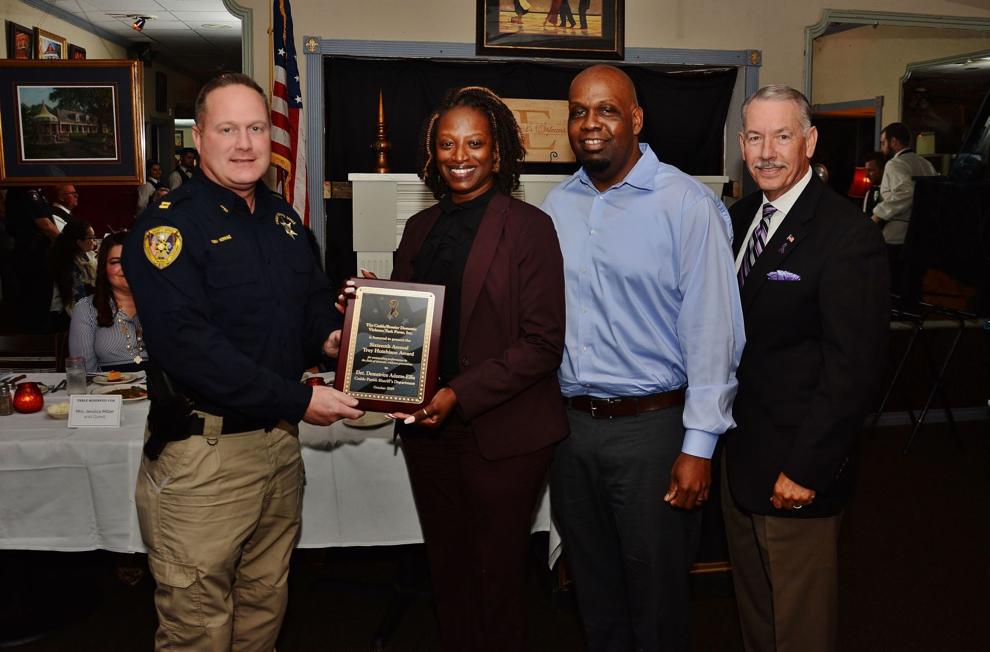 Det. Demetrice Adams-Ellis – Caddo Parish Sheriff's Office
"It means the world to me to be honored like this," said Det. Adams-Ellis.  "I love helping people, and anyway I feel like I can help, I'm here."  She attended today's ceremony with her husband, Marcus.
Caddo Parish Sheriff Steve Prator, who has served in law enforcement for more than four decades, said he was proud of Det. Adams-Ellis and all the law enforcement officers who are committed to battling domestic violence.  "Years ago, domestic violence wasn't treated as seriously as it is now.  It's one of the most serious things we deal with, and it's our job to make sure domestic violence doesn't occur."
The keynote speaker was Jessica Miller, M.A., MBA, Executive Director for the Gingerbread House Bossier/Caddo Children's Advocacy Center, and she says that about 10 percent of the 694 child victims they have served at the Gingerbread House this year are involved in domestic violence situations.  And that, she notes, is often the catalyst for adults involved in domestic violence to come forward.
"Many of our adult domestic violence victims have said it wasn't until it happened to their child that they finally made the break and finally decided 'enough is enough'," said Miller.
"By being able to help those children heal from what they've gone through, we are also helping their families break away from that cycle of abuse.  That's our goal, to break that cycle of abuse, one child at a time."
In 2018, Gingerbread House served 940 children through their forensic interviews, multi-disciplinary investigations and advocacy services.  And their hard work pays off.  Jessica said that their efforts result in a 97 percent prosecution rate for the cases they work.  
Like Lt. Wolff, Jessica also knew Trey Hutchison.  It's been 15 years since Trey has been gone, but Jessica remembers his smile and his servanthood. 
"I was good friend's with Jessica, Trey's wife, and I got to know him while they were dating," Jessica said.  "One of the things that I've always remembered about Trey is his smile and how happy he was to be a police officer.  He wanted to be a public servant, and he wanted to be out in the community being the hands and feet of Jesus to our community by serving as a public officer." 
Jim Taliaferro serves as the president of the Caddo/Bossier Domestic Violence Task Force, whose mission is to educate and support all members of the law enforcement community and their civilian and military counterparts in all aspects of domestic violence.  
"We do this in memory of Trey Hutchison, who was a strong proponent of helping victims and families involved in domestic violence," said Taliaferro.  "This is a great way for us to come together and pay respect to his family, to him and his service, and also to the law enforcement officers who day-in and day-out are standing on the front lines between good and evil of domestic violence and championing the cause of safety and redemption."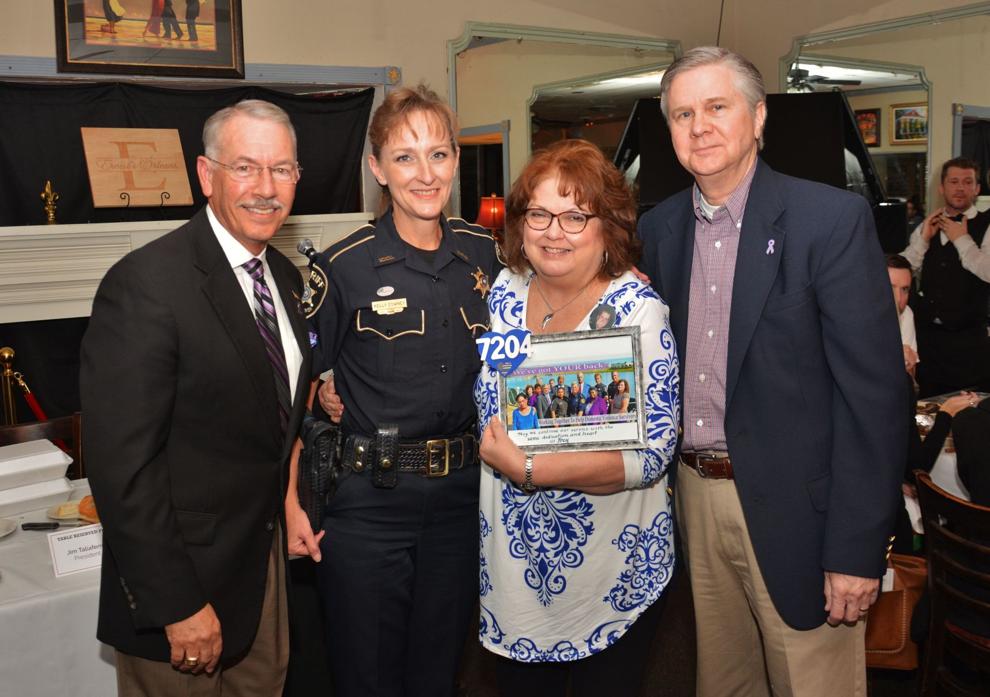 During the ceremony, Det. Kelly Downey of the Bossier Sheriff's Office and member of the Northwest Louisiana Family Justice Center presented Mark and Wendy Hutchison, parents of Trey, a photo of the recent billboard that was created to show domestic violence victims that law enforcement and advocacy groups 'have their back'.
Taliaferro also read the names of local 2019 domestic violence homicide victims, which included Officer Chateri Payne, 22, killed on Jan. 9; Shandrel Simoneaux, 22, and Maeisha Simoneaux, 40, killed on Jan. 9; Robert Walker, 71, killed on Feb. 18; and Perry Baily, 36, killed on June 30.
During the ceremony, Pastor Brad Jurkovich of First Bossier Church delivered the invocation, while Chief Eddie Walker of the Centenary Police Department led in the Pledge of Allegiance.  Captain Shreve student Sachiri Henderson sang the National Anthem, and Chaplain Craig Kennedy with Personal Solutions Inc. delivered the benediction.  Jennifer Kimball with Proactive Nursing Solutions and treasure of the C/B DVTF, introduced the keynote speaker, and, along with her two children, Carson and Jenna Marie, welcomed attendees.  Angela Henderson of Project Celebration Inc. and secretary of the C/B DVTF, spoke on the importance of helping victims of domestic violence.