CLAIBORNE PARISH, La. (KNOE) - A Claiborne Parish businessman has added an additional $5,000 to the reward being offered by the FBI for information on a missing Claiborne Parish child.
The extra money coupled with the FBI's reward of $5,000 brings to $10,000 the amount that will be given to the tipster who leads authorities to Rondreiz "Junior" Phillips, the 4-year-old who's been missing from his Lisbon home for almost two weeks. 
The Claiborne business owner has chosen to remain anonymous, according to Sheriff Ken Bailey.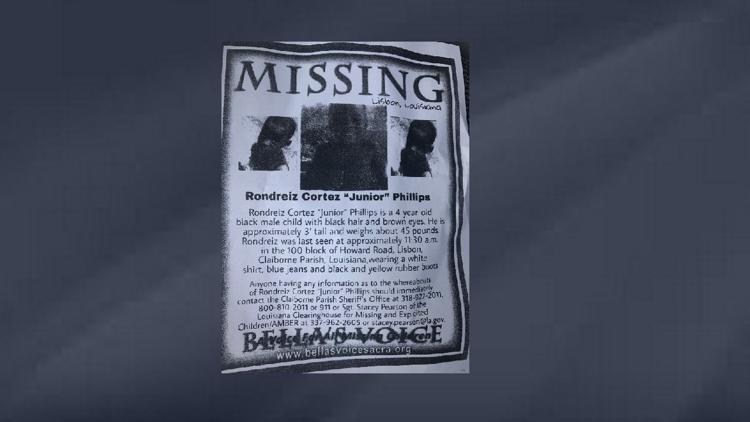 On Monday, Claiborne Parish Sheriff Office, FBI and Homeland Security started to drain a pond just a mile south of Junior's home. Wednesday afternoon, Bailey told KNOE after draining the pond that the team found nothing.
Philips was reportedly last seen about 11:30 a.m. on April 5 in the 100 block of Howard Road, wearing a white shirt, blue jeans and black and yellow rubber boots. The child reportedly wandered off while outside with his mother's boyfriend.
The child's mother, Shelia Phillips, who is said to have been inside the home when the child disappeared, reported the toddler missing shortly after noon that day, according to authorities.
Since then, authorities have used a number of resources in an effort to locate Junion, including drones, helicopters, cadaver dogs and organizing volunteer search teams. 
RELATED ARTICLE - Over a hundred join prayer vigil for missing Claiborne Parish boy
Anyone having information regarding this case is asked to call CPSO at (318) 927-2011.