SHREVEPORT, La. -- A historic preservationist has convinced the city to hit the brakes on a $2 million dollar traffic light project. But preserving the character of the intersection of Kings Highway and Line Avenue could come at a higher cost.
The city's contractor has agreed to pause construction after putting four big metal poles in the ground at all four corners.
Christopher Coe complained to the city council that the big, standard style of poles -- and eventually the arms holding the lights -- will detract from the two historic buildings at that intersection. Both Byrd High school and Kings Highway Christian Church were built in 1925, and are on the National Historic Registry.
"Why is the city not abiding by its own rules that it makes its citizens and business owners comply with when they have to go to the historic preservation committee, and they have to go to the planning commission. Why is city engineering except from this? It's absurd. And it really needs to be fixed," Coe told the council last Tuesday.
Coe says the city should've done some more planning and installed historic looking traffic light poles, like ones at Common and Fairfield, and elsewhere downtown.
"So the question is, if it's good for there, why didn't we even think about it at this important intersection?" Coe asked.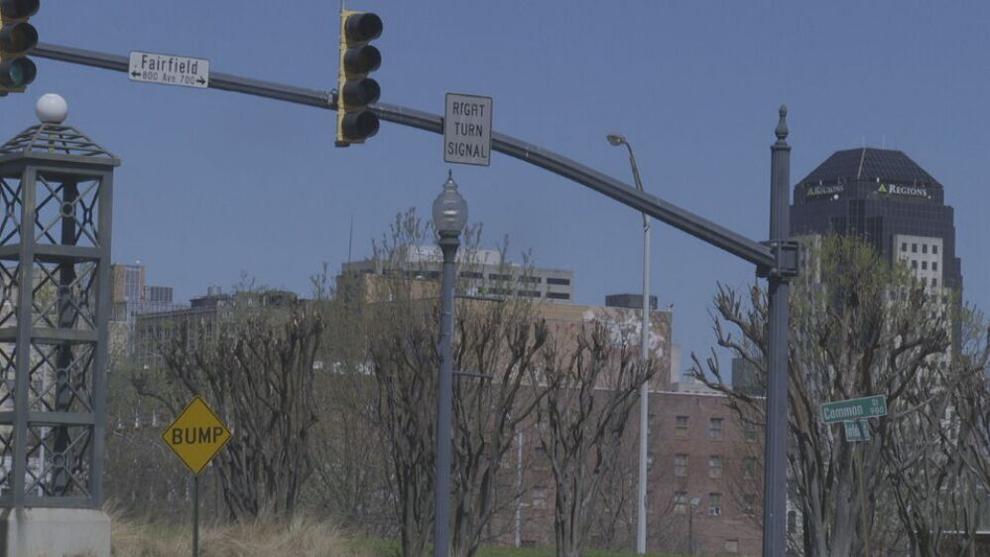 City Engineer Patrick Furlong says the existing historic looking lights were part of the original design in a "Downtown Streetscape" project. He says the traffic and engineering department don't normally engage with groups like the Historic Preservation Commission before a project.
"If the project needs to be decorative in nature with an increased cost, that authorization comes from the city council," Furlong says. "We are always interested in making improvements to what we do."
"We've asked the contractor to stop working at that intersection, and he was very gracious and agreed to that. So right now, we're evaluating what the additional cost would be for more decorative, historic looking poles," Furlong added.
Furlong says, at his request, he's meeting with the HPC on Tuesday to discuss the project's design. Coe says he also received an invitation.
Furlong warns that the contractor will need to get back on the job soon. Its scheduled completion is in May.
Furlong says getting input from the HPC in future projects on the front end will probably require a new city ordinance.
Coe told the council it's something the city should not ignore.
"This is not just not an aesthetic issue. It affects economic development and how our own city is perceived by its own citizens and visitors," Coe said.
Current traffic lights at Kings and Line are suspended by cables across the intersection that are connected to wooden utility poles.
Furlong says plans for the new traffic light system began about ten years ago, and were finalized in 2017. He says it's completely funded locally.