UPDATE: Williams' wife, Amber Ortego Williams, replied to a message from KTBS Saturday evening. She said neither she nor her husband could comment on any matters related to the investigation, per the advice of the family's legal team.
ARCADIA, La. – A school administrator is under investigation after recordings of a phone conversation between himself and his daughter were posted on social media.
Bienville Parish Schools Superintendent William Wysinger said the investigation was in direct response to the short video clips, which claim to show Michael Williams, the assistant principal at Ringgold High School, shouting at his daughter over the phone.
In the profanity-laced video recordings, shot on a cellphone, a man can be heard yelling at a young woman over the phone, urging her to tell her friend to take a social media post down.
"This whole argument and everything going on right now is to expose racism, and you should not be in a school—"says the young woman, who, according to the woman who recorded and posted the video, is Williams' 20-year-old daughter.
"F**k your movement! Take the s**t down," the man's voice interrupts. "I care about my reputation!"
Haelie Manuel, who lives with Williams' daughter, recorded the short video clips and posted them on her Facebook page under a pseudonym. The post was shared hundreds of times.
Manuel said each clip represented a separate phone call from Williams to his daughter, in response to an earlier Facebook post by Manuel.
"MICHAEL WILLIAMS ASSISTANT PRINCIPAL OF RINGGOLD HIGHSCHOOL IS RACIST & NEEDS TO BE FIRED IMMEDIATELY," Manuel had written in all caps. "I'll post the details in a minute once I type them up."
Manuel told KTBS she has heard Williams say racist things to his daughter in the past, including use of a derogatory slur directed toward African Americans.
Manuel is African American.
"You're allowed to have your personal beliefs, you're allowed to believe whatever you want to, but when you're in a place of authority with children, it's not (acceptable)-- at all," Manuel said. "Even if you keep it the house, even if you do keep it inside of your household and keep it to yourself is not acceptable, because you still believe that way. So that means you're still implementing your beliefs with the children in your school."
According to U.S. News & World Report, 49% of students at Ringgold High School are African American.
Williams did not respond to requests for comment, but he posted a lengthy statement on Facebook early Friday morning.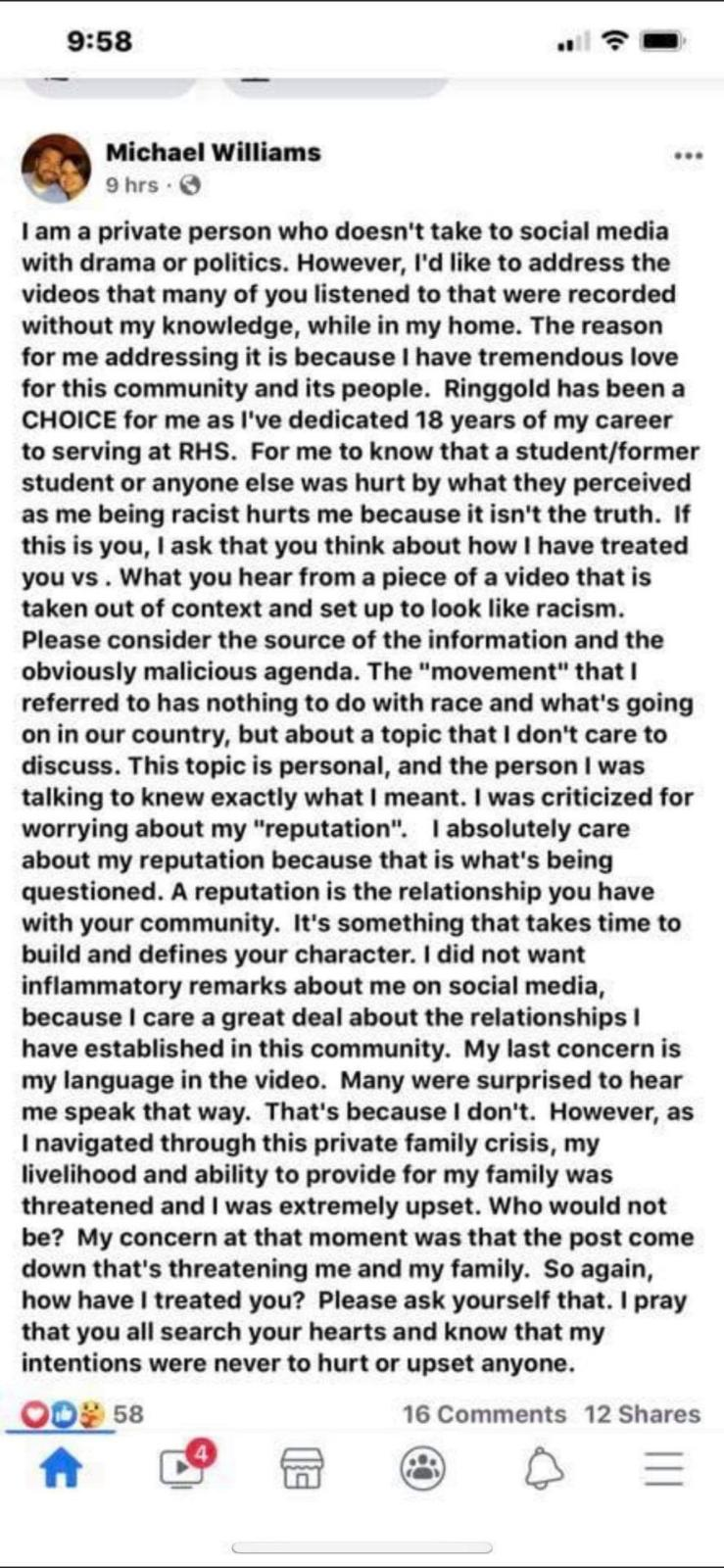 "What you hear (is) from a video that is taken out of context and set up to look like racism. Please consider the source of the information and the obviously malicious agenda. The 'movement' I referred to has nothing to do with race and what's going on in our country, but a topic that I don't care to discuss," part of Williams' statement says. "My intentions were never to hurt or upset anyone."
Comments on the post were supportive of Williams and his character.
"Mr. Williams you're a good man. I've went to Ringgold my whole life up until my last two years. Not once have you ever showed any signs of racism. You've always tried to leave a positive message on every RHS student and everyone else around," one commenter wrote.
"This whole thing just makes me sick," another comment said. "You are and have always been the kindest, most caring person I know. You have always treated your fellow man with the utmost respect. And you have always cared and loved your students regardless of who they were. Anyone who knows you knows the person you really are and that is a man with deep convictions and great character! We all love and respect you and always will."