SHREVEPORT, La. - There is a Slight Risk of organized severe storms across the I-30 corridor late Sunday according to the Storm Prediction Center.  This includes northeast Texas, southeast Oklahoma and southwest Arkansas.  Hail, gusty winds and isolated tornadoes would be the problem areas.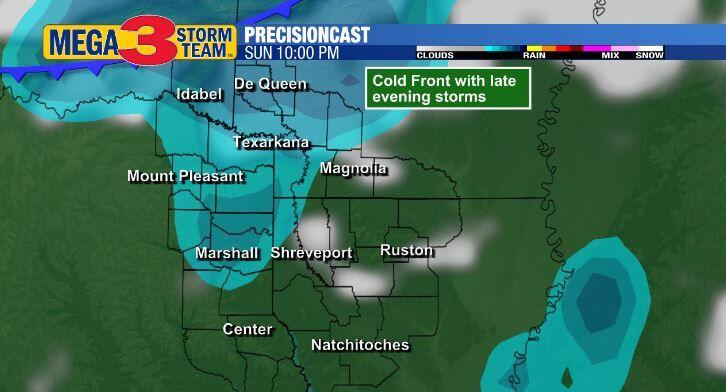 These storms could develop ahead of a slow moving cold front during this time.  The threat should decrease after midnight Monday morning.
RELATED CONTENT - Click here for the very latest MEGA 3 StormTeam forecast
STAY CONNECTED
It's easy to be weather-wise. Keep up with all of the very latest weather developments with the MEGA 3 StormTeam. Joe Haynes, Brian Fowler and Patrick Dennis are always on stand-by to help you ride out the storm and keep you and your family safe. You'll also want to arm yourself with the MEGA 3 StormTeam app available for Apple and Android devices. When necessary, look for LIVE coverage on all of your KTBS 3 Now connected devices including KTBS 3.2 and ktbs.com.
Also, use #ktbswx on social media to report damage, flooding or post images and video. Please remember, SAFETY FIRST.