SHREVEPORT, La. - After a few days away from class because of a pest outbreak, St. Joseph School students will be back at their desks Tuesday.
The school shut down for two-and-a-half days to treat for fleas in one of the buildings.
School officials said the fleas may have come with recent construction behind the middle school building.
Officials said the fleas were contained there.
The entire campus was treated by a pest control company, but the middle school will continue to get treatments.
Students will meet Tuesday in other buildings.
School officials said the pest control company was working with the state to follow regulations for treatments in schools by using non-aerosol and non-toxic chemicals.
A spokesman for the Diocese of Shreveport said they regret any inconvenience the closure has caused, but they wanted to be thorough.
"If you're going to do it, you have to do it right and so everything has to be removed, past that test," John Mark Willcox, Director of Development and Public Relations for the diocese, said. "Our superintendent is an Ursuline nun and they want things clean. So, we'll get things real clean, and we'll get everybody back up real soon."
There have been no reports of students being bit by fleas.
Here's the school's statement on the flea outbreak: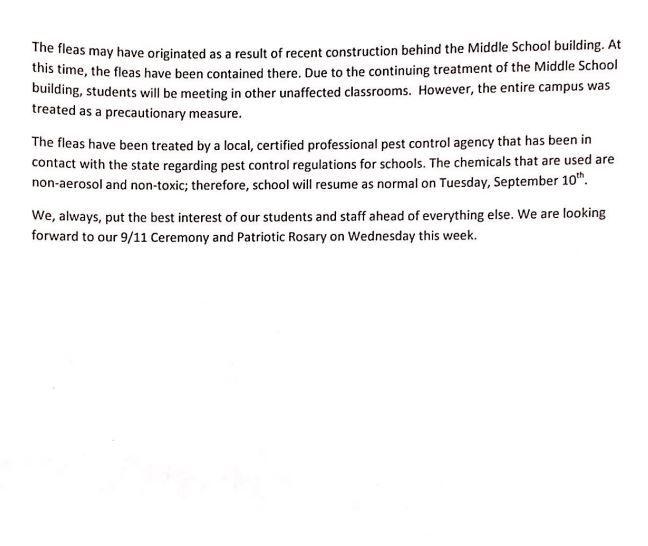 Here's the letter parents got Sunday: