SHREVEPORT, La. - Despite pleas from some citizens and council members alike to slow down, the Shreveport City Council voted Tuesday by the slimmest margin to give the people a chance to decide the fate of three bond proposals in November.
The vote was 4-3, with Republican James Flurry joining with three Democrats aligned with Mayor Adrian Perkins to advance the propositions that total $186 million.
"At least let the citizens have a vote. That's democracy. You either vote it up or down," Flurry explained of his decision. "All this is today, ladies and gentlemen, is to simply say we're going to ask the citizens, can we borrow some money."
Perkins also sounded a democracy theme in advocating for a passing vote by the council. He says the bond improvements are needed for areas of the city that have been passed by.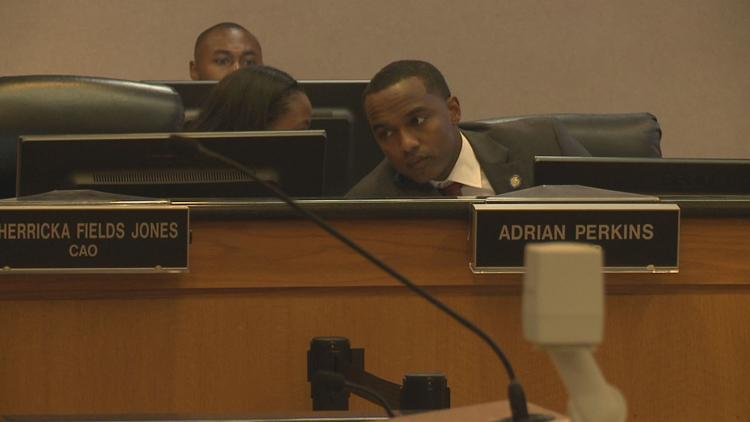 "We have the potential to climb out of this. That's the good news. But the scary part is our problems are even greater than what I thought I saw from the outside," said the Mayor, elected less than a year ago.
Perkins again emphasized that the bonds would be a continuation of some that are expiring, and would mean no tax increase.
Republicans Grayson Boucher and John Nickelson, along with Democrat LeVette Fuller, were the "no" votes. They said the council needed more time to decide what the city's urgent needs are, and to possibly trim the proposal some more.
Boucher said every call he received from those in his conservative southeast district were against the proposal. He questions going ahead with $20 million dollars for a new police station, when the site has yet to be determined.
Nickelson told the council they can't be sure the bond proposal is a prudent use of the city's resources.  Nickelson said, "Before asking voters to let the City borrow $186 million, this council should require a rigorous and comprehensive analysis of the city's needs and its overall financial health."  
The modified package from Perkins and the council is divided into three separate propositions: $32 million for water projects; $76 million for public safety, including a new police department and fire trucks to replace ones; and $78 million for streets and drainage.
The total is $34 million less than the original $220 million plan.
Great Shreveport Chamber of Commerce President, Dr. Timothy Magner, who previously voiced concern about the size of that original package, still has reservations.
"We are pleased to see that there's been robust discussion about the elements. We're pleased to see that there's been a reduction in size. We hope that there's more information forthcoming," Magner said.
That was a common complaint of some citizens who spoke to the council on the matter.
And so begins a 95-day sales pitch from the Perkins administration to citizens.