BATON ROUGE, La. - Louisiana lawmakers still expect to complete the once-a-decade process of redrawing the state's political boundaries this year despite delays in collecting the necessary population information, state Sen. Sharon Hewitt, R-Slidell, said Tuesday.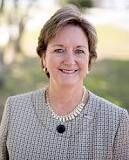 The U.S. Census Bureau was supposed to deliver the results of the population survey it conducts every 10 years to the president by Dec. 31, but it wasn't able to do so because of concerns about spreading COVID-19, said Hewitt, who chairs a committee that oversees redistricting. Consequently, the federal government might not be able to deliver state-level data by the current April 1 deadline, she said.
State lawmakers must complete redistricting a year after the president gets the data, meaning the federal delay allows state officials to push the process back to 2022, Hewitt said. But she said crafting new districts during the same year candidates will be running for Congress isn't a good idea, adding that Senate President Page Cortez agreed.
Once state leaders have the data, they plan to hold public hearings followed by a special redistricting session. The Louisiana Legislature draws congressional and legislative boundaries, but the governor can veto its plan.