STONEWALL, La. – Stonewall Mayor Randy Rodgers no longer has to conduct the town's business in a closet-turned-office.
That's because Town Hall has moved into a new, spacious facility.
Stonewall residents needing to conduct in-person business with the town now have to drive a short distance down U.S. Highway 171, where Town Hall has relocated inside the DeSoto Parish Sheriff's Government Plaza building.
The 13,500-square foot multi-million dollar building is not fully opened, but Stonewall officials got an early jump this week moving into their 2,300-square foot space when phone service was cut off ahead of time at the former Town Hall. That also gives them time to settle in before the first Town Council meeting set for 6:30 p.m. Tuesday.
The former Town Hall has undergone numerous renovations over the decades to accommodate the growing town. The small building and single office staff suited the town well until the growth spurt started and services expanded. A series of temporary buildings also were added.
"The little cubby-hole that was like a double closet that was the mayor's office, when someone would think 'I'm going to see the mayor of Stonewall' they expected more than that. Well, today, this is what they see: a very, very nice office," Rodgers said.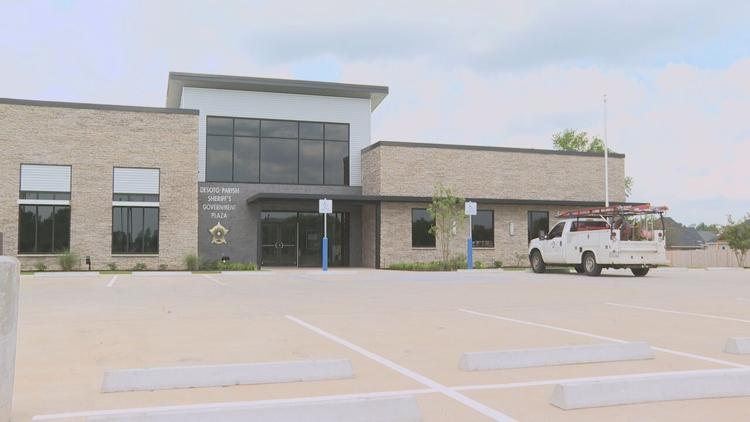 Stonewall officials eventually will be joined by other parish offices inside the building. Sheriff Jayson Richardson said he'll have at least one employee in the sheriff's substation beginning next week as he ramps up plans to become fully operational. The public then will be able to do business there like at the main office in Mansfield.
Other occupants eventually will include the parish clerk of court and tax assessor satellite offices, which are currently housed in small temporary buildings next to the former Town Hall. There's also room for the DeSoto Parish Police Jury.
Locations of the new offices are clearly identified in the atrium when the public enters the building. Also out in the parking lot is a designated place for the public do conduct Craig's list exchanges and parental custody exchange. The site is video monitored 24 hours a day.
The idea for the Government Plaza originated under the administration of former Sheriff Rodney Arbuckle, but it didn't get off the ground before he retired. Richardson pushed it forward, even through some initial opposition.
Richardson said a new sheriff's substation was a necessity because he no longer had a viable location for deputies to work out of in Stonewall. They were essentially reduced to a parking lot for patrol units. Then the idea grew to have a complete complex with the other parish offices involved to have a one-stop shop for the public. 
There's no date set for a formal ribbon cutting for the new building.