LITTLE ROCK, Ark. — Arkansas Gov. Asa Hutchinson said Tuesday he won't stop private businesses from requiring employees and customers to get vaccinated. But vaccinations won't be required at state agencies.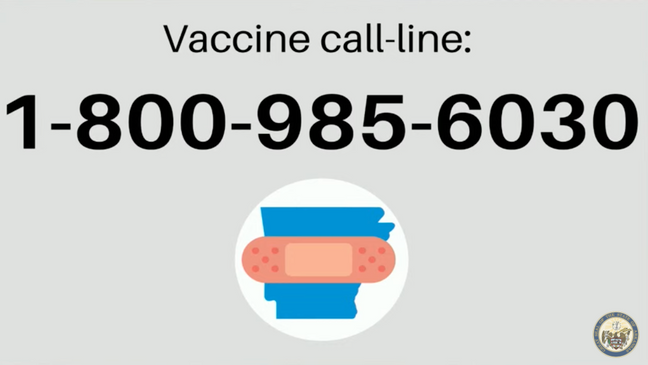 The governor said during a briefing he wants to give latitude to businesses and employers to require COVID-19 vaccinations.
"If an employer wants to have everyone vaccinated in their workplace that they have the prerogative to do that," Hutchinson said. "That's the private sector and their right to protect their workplace."
But he doesn't think it should be a condition of travel and he won't require it for state agencies.
"I want everybody to get vaccinated," Hutchinson said. "As a government, no, the state will not be requiring or mandating vaccinations."
On Tuesday, about 68% of the state's vaccine doses had been given. Hutchinson said well over 800,000 Arkansans have been partially or fully vaccinated. About 65% of Arkansans age 65 and older have been vaccinated.
Hutchinson said Tuesday 77% of those vaccinated in Arkansas are white. Director of Health Equity Michelle Smith said the state is working on outreach programs for minority communities. Teams have been set up and dispatched into counties with low vaccination rates for racial minorities, rural communities and religious groups to address hesitancy and encourage vaccination.
"We have to continue to work to overcome historic reservation," Hutchinson said.
The goal for April is to vaccinate 8,000 people with at least 50% belonging to minority groups.
Education Secretary Johnny Key encouraged high schoolers age 16 and older to get vaccinated on Tuesday. He said the state is working on setting up clinics at local high schools as they prepare for student's return in the fall.
Officials again stressed the importance of getting a second dose of the vaccine for it to be the most effective.
On Tuesday, officials reported 1,602 active probable and confirmed virus cases in Arkansas. Virus hospitalizations rose by seven and five more deaths were linked to the virus.
The Arkansas House of Representatives voted Tuesday to override Hutchinson's veto of HB 1570, a bill prohibiting anyone under 18 in from undergoing gender reassignment surgery or receiving hormone therapies. It now heads to the Senate.
"I don't consider it a surprise," Hutchinson said at the briefing. "I stated my convictions and belief yesterday, and I understand the support for it in the House and Senate."