LITTLE ROCK, Ark. — Arkansas logged 734 new virus cases and 20 new COVID-19 deaths on Tuesday, bringing the state's death toll to 428 and the number of confirmed cases to 40,181.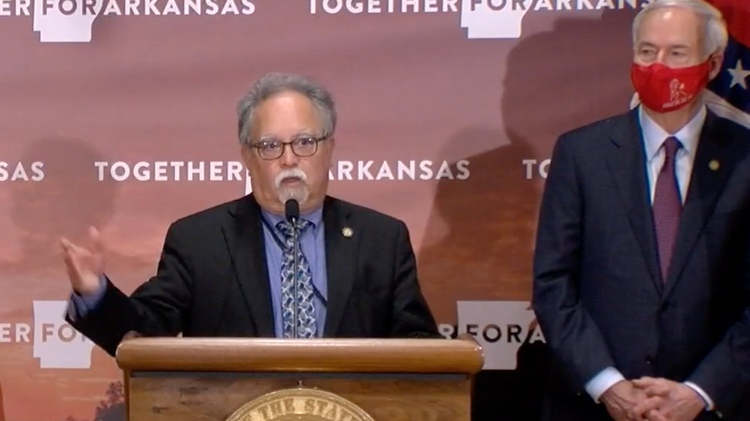 "These are not good numbers," Gov. Asa Hutchinson said during the briefing.
Of the new cases, Pulaski County had 55, Benton County reported 50, Mississippi County had 49 and Washington and Sebastian County reported 45 new cases each. Hutchinson said there were 11 counties across the state with over 20 new cases.
Officials said 501 people were hospitalized with the virus, up 12 from Monday, and 110 were on ventilators. The number of active cases came down from 6,674 on Monday to 6,565 on Tuesday. Of the new deaths, six were reported late and occurred before Monday, Interim Health Secretary Jose Romero said during the COVID-19 briefing.
Hutchinson responded to questions at the briefing about complaints from both the public and Arkansas lawmakers about mask mandates violating freedoms or being unconstitutional.
He said he did not want to issue a mask mandate, but as cases continued to rise and healthcare providers began feeling more pressure, "it was a decision that had to be made."
"It's a matter of balancing the priority of public health ... with the independent spirit of Arkansans," Hutchinson said. "I'm used to making some unpopular decisions, but this is for public health."
There had been 4.4 million cases confirmed nationwide and 151,000 people in the U.S. had died from the virus on Tuesday.
Hutchinson said 5,248 tests were administered on Monday, with a positivity rate of around 8 percent. Around 170,000 people have been tested in Arkansas in July. Hutchinson said the state will easily reach its revised goal of 180,000 tests done this month. Previously, the state aimed for 200,000 tests in July. Officials lowered their expectations after backlogs at commercial labs slowed testing at the beginning of the month.
Arkansas is set to receive 200 new testing machines next week.
Yesterday, the governor announced that the state will spend $10 million in CARES Act funds to give around 20,000 students internet access across the state. This comes weeks before students in Arkansas return to school online and in classrooms. Education Secretary Johnny Key also announced on Monday that $1 million of the pandemic funds will go toward creating a stockpile of personal protective equipment for schools.