TEXARKANA, Texas - A few simple questions could have a huge impact on funding a city.
It's a U.S. census year, but so far, the numbers are not where they should be. A census team in Texarkana is now urging area residents to complete their forms and get counted.
According to the U.S. Census Bureau, the Texarkana area is low compared with other areas in Texas and Arkansas. In Miller County, 56% of the population has responded to the census and in Bowie County it's 52%.
Mary Wormington, who is on a census committee for the twin cities, said starting next month census takers will be going door-to-door with a concentration on rural areas.
Wormington said the committee had planned many outreach events to connect with the community, but the coronavirus has made that difficult. The team had to find new ways to encourage people to fill out the census in a safe way.
"It's important. If we're going to continue serving our rural areas every rural person needs to be counted," said Wormington.
Earlier this week, elected officials and local leaders gathered at the courthouse to kick off the "Battle of the Borders Friendly Census Challenge." The side of town with the most participation in the census will be declared the winner.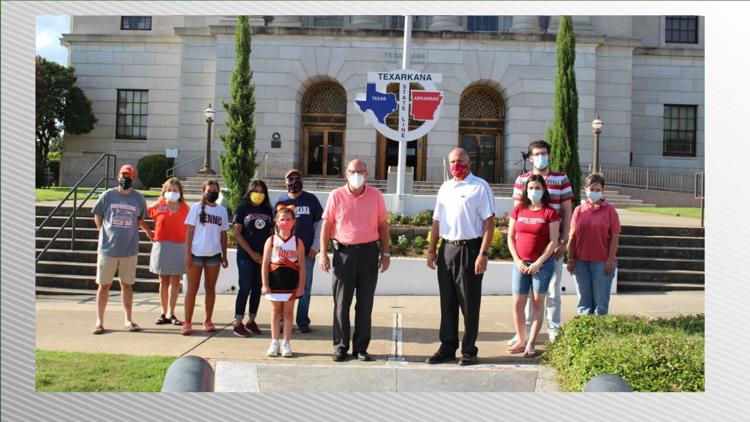 Not only does the winner get bragging rights, but they get to watch the other side wear their state's colors for a week. It's a friendly competition, but it could ultimately end up benefiting both sides.
Census data determines the funding a county receives and its government representation. Funding is used for schools, roads and hospitals, among many other public resources.
Completing the census is easier than ever, committee members said. For the first time households have been encouraged to respond electronically. Visit my2020census.gov to fill out the form online.
For help responding to the census, customer service representatives are available every day.
English: (844) 330-2020
Spanish: (844) 468-2020