TEXARKANA, Texas - As snow continues to fall the Texarkana region, the Texas Department of Transportation is working to make the roads and bridges safe for drivers.
On Sunday afternoon, snow first started falling in the Texarkana area.
Over the last couple of days, TXDOT crews have been pre-treating all of the bridges in the Texarkana area with a brine solution.
The mixture of salt and water helps prevent precipitation from freezing.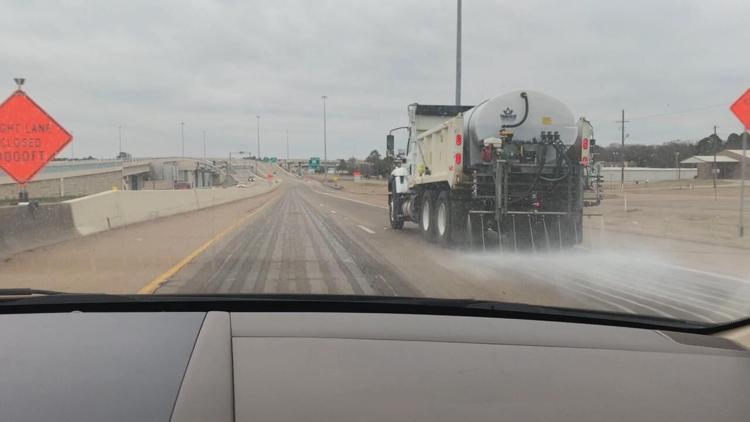 The TXDOT Atlanta District is pretreating bridges and overpasses throughout a nine county area including Bowie County.
Crews will be monitoring the roads and bridges overnight and through the morning to locate any trouble spots.
"If we're getting some really heavy snowfall in certain areas then they will go out and make sure that the roadways are treated again as necessary," said Marcus Sandifer, TXDOT Atlanta District Spokesperson.
Despite this work, TXDOT officals are urging motorists to stay alert to changing weather conditions.
Drivers are urged to follow these precautions:
Reduce speed. Speed limits are based on normal road and weather conditions, not winter road conditions. Do not use cruise control.
Maintain at least three times the normal following distance on snow or ice.
Watch carefully for personnel and equipment treating roadways, and stay at least 200 feet back from road crews.
Use extra caution on bridges, ramps, overpasses and shaded areas as they tend to freeze first.
Carry extra warm coats, gloves and boots in case you get stranded.
If you start to slide, ease off the gas pedal or brakes. Steer into the direction of the skid until you feel you have regained traction, and then straighten your vehicle.
Motorists can obtain travel information by visiting drivetexas.org or calling (800) 452-9292. Road conditions and traffic updates are available on Facebook, www.facebook.com/txdot and Twitter, www.twitter.com/txdot.