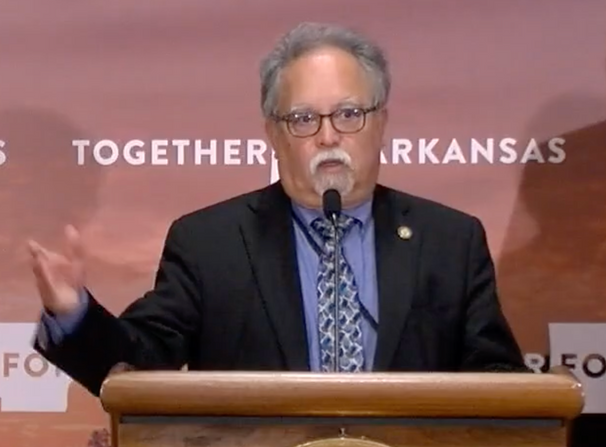 LITTLE ROCK, Ark. — Arkansas reported a bump in COVID-19 hospitalizations Tuesday as officials announced a new statewide vaccination initiative.
Gov. Asa Hutchinson said the state aims to provide 467,000 more vaccinations in the next 90 days, which would bring the state's vaccination rate to 50%. About 34% of residents have received at least one vaccine dose since vaccinations began in December.
Arkansas opened vaccine eligibility to all adults in late March, but the vaccination rate has declined recently, Hutchinson said. Vaccinating half the state's residents is going to be a "big challenge," he said. Hutchinson noted that only 40% to 50% of residents typically get the flu shot each year.
As part of the initiative, the Arkansas Department of Health plans to hold vaccine clinics at 600-700 events across the state in the coming weeks. The clinics begin Tuesday night with the season opener for the Arkansas Travelers baseball team in North Little Rock. Clinics will also be held at high school graduations, farmer's markets, motorcycle rallies, livestock shows and more, according to the department.
The vaccine push comes as health officials shift their goal from reaching herd immunity, which would be 70% of the population, and instead focus on providing as many shots as possible.
Arkansas Secretary of Health Dr. Jose Romero said that doesn't mean herd immunity is no longer possible.
"Eventually, either through vaccination or through reinfection, we will attain some degree of immunity," he said.
More than 768,000 people in Arkansas have been fully immunized through vaccinations.
Hutchinson announced Tuesday he's ending his weekly briefings on the pandemic. The briefings began in March 2020 and were originally held on a daily basis.
Virus hospitalizations Tuesday increased by 20 to 192. That's the highest since March 21.
The state reported 296 new probable and confirmed cases of the virus. Active cases increased by 100 to 2,043.
Five more deaths were linked to the virus, bringing the state's total to 5,752.