BOSSIER CITY, La. - A Webster Parish inmate who left a work detail in a stolen vehicle was shot after leading officers on a high speed pursuit Tuesday in Bossier City, Sheriff Gary Sexton said. 
Norman Guthrie was shot in the shoulder. He was treated and released from Ochsner LSU Health and taken to the Bossier Parish jail.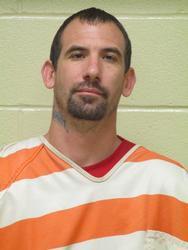 Shots were fired after Guthrie attempted to run over officers, Sexton said. 
The shooting happened on West Viking Drive.
Guthrie, 40, is a state inmate who was serving time at Bayou Dorcheat Correctional Center. Sexton said he was at his work detail Monday for the Webster Parish School Board when he learned he was going to have to serve more time behind bars because of a miscalculation of his time served.
"When he found out he was not going to be released, he stole one of their trucks and fled," Sexton said. 
The U.S. Marshal's task force was called to assist in the search of Guthrie, which continued overnight. 
Additional information Tuesday morning was relayed to the marshals, who were joined by Bossier Parish sheriff's deputies in pursuing Guthrie on Airline Drive in Bossier City, Sexton said. 
"My understanding he tried to run over police officers and they fired shots and he was hit," Sexton said. 
Guthrie was serving time on charges out of Bossier Parish. He pleaded guilty in March to second-degree battery – a charge that was reduced from attempted second-degree murder – and was sentenced to three years in prison. The formal charge filed by the District Attorney's Office states Guthrie attempted to kill William Ballard on July 7.
On the same day, Guthrie is accused of stealing a vehicle and that earned him another charge of theft of a motor vehicle valued over $1,500. The district attorney did not prosecute that charge.