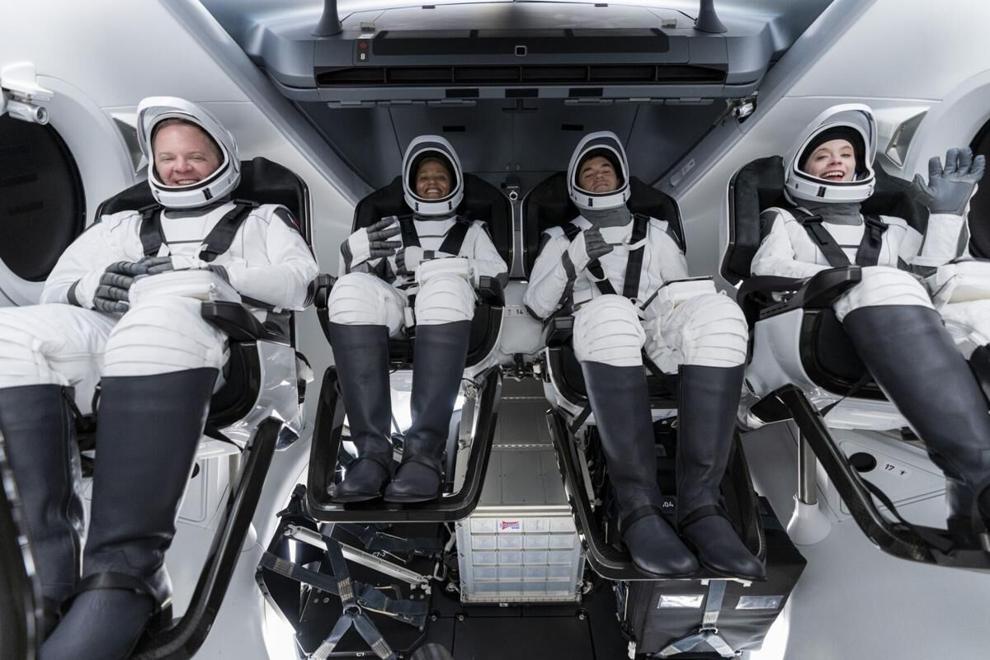 BATON ROUGE, La. - How well are the Inspiration4 civilian astronauts eating during their three days in space?
Not very well by south Louisiana standards.
It turns out, Hayley Arceneaux is fine with that.
Arceneaux, the Baton Rouge native who grew up in St. Francisville, made no special food requests for the historic space mission, her family said. If the four-person crew gets nothing but the freeze-dried diet common to longer-term assignments like the International Space Station, that's what she signed up for.
"She wants to get the real astronaut diet," her brother Hayden Arceneaux said Thursday.
Perhaps fortunately for her, freeze-dried wasn't on the menu.
Fellow crew member Sian Proctor, a geoscientist, requested pizza, and the crew liked it so much they've had it twice, Hayden said.
The crew, which also includes businessman-philanthropist Jared Isaacman and aerospace industry worker Chris Sembroski, will be fueling up for orbital experiments, some of which are Arceneaux's responsibility as the crew's medical officer. The mission aims to shed light on the impact of spaceflight on the human body.
Environmental and biomedical data and biological samples from all four crew members are being collected before, during and after this spaceflight.
In addition to having their ECG activity, movement, sleep, heart rate and rhythm and blood oxygen saturation recorded, those aboard will perform tests to evaluate changes in behavioral and cognitive performance on an app also used by astronauts in NASA-funded research studies.
They will collect and test drops of blood during spaceflight for markers of immune function and inflammation, and will use balance and perception tests pre-flight and immediately post-flight to measure how changes in gravity affect sensory and motor aspects of bodily activity.
"I'm so excited about the medical research that we're going to be doing," Arceneaux said at a press conference Tuesday.
A physician assistant at St. Jude Children's Research Hospital — the beneficiary of the mission's fundraising goal — when she's not in space, Arceneaux also is scheduled to call her patients Thursday night.
The mission also serves as SpaceX founder Elon Musk's entry into space tourism dollars. Isaacman paid an undisclosed sum to book the flight and is donating $100 million of St. Jude's $200 million fundraising goal.
The SpaceX Dragon spacecraft doesn't allow astronauts to pack for a vacation, but they can bring some personal items. One that Arceneaux said she'd bring is one of her late father's neckties.
Grateful for the medical care that saved Hayley's life when she was an osteosarcoma patient in 2002 at St. Jude, Howard Arceneaux wore a garish St. Jude tie that, in time-honored fatherly tradition, embarrassed his daughter. Howard Arceneaux died of kidney cancer in 2018.
"I would always say, 'Don't wear that. It is not the most fashionable,'" Hayley told NBC's "Today" show on Aug. 18. "But he would insist on wearing it because he said people would ask him about it, and then he could tell them about St. Jude. And so, I'm bringing his tie to space."
Hayley also brought the book "Goodnight Moon" that she plans to keep for her future children, and a plush toy dog that served as a zero-gravity indicator shortly after liftoff. As the rocket's second stage engine cut off, she let go of the toy, which was attached to a tether, and it floated in the cabin, letting the crew know they'd reached the microgravity of space.
The toy resembled the golden retriever assistance dogs at St. Jude's, and the hospital is selling replicas of the toy as a fundraiser.
Zero-G indicators go back as far as manned space flight. Russian cosmonaut Yuri Gagarin brought a small doll on his Vostok 1 mission in 1961, and later cosmonauts continued the tradition with stuffed toys they hung from their spacecraft control panels.
Arceneaux told "Today" that she is bringing hops that will be used to make "space beer," which will be auctioned off to raise money for St. Jude, and some photos of friends she lost to cancer.
Arceneaux brought a decal of the shield logo of St. Joseph's Academy in Baton Rouge, from which she graduated in 2010, and letters from her family to open and read in space.
If one of those letters is from her brother, it won't be to express jealousy that he's not on the mission.
Hayden Arceneaux, 26, is an aerospace engineer who works in computational fluid dynamics for Lockheed-Martin in Huntsville, Alabama. If the Inspiration4 astronauts had been chosen on more traditional grounds, he might have been a candidate to be in the crew.
But as much as he'd like to be there, that isn't the point, Hayden said.
"The mission is about people who wouldn't traditionally be astronauts being astronauts," Hayden said. "My sister is a medical professional. She has a prosthetic in her leg. That would disqualify her, but now she gets to be an astronaut. That's kind of what the mission is about."