SHREVEPORT, La. – COVID-19, unrelated losses of three major employers and a national hit to the energy sector combined to so far make 2020 a miserable year for the economy in the northwest corner of the state, an economist said Thursday.
But with the bad comes some good as recovery from the fallout is anticipated to move forward with some bright spots on the horizon that could kick it into gear even sooner.
Economist Loren Scott shared his annual outlook for the economy during a forecasting forum hosted virtually by the Port of Caddo-Bossier and the Committee of One Hundred. Scott admitted his crystal ball is foggy because of the continued unknowns of the pandemic.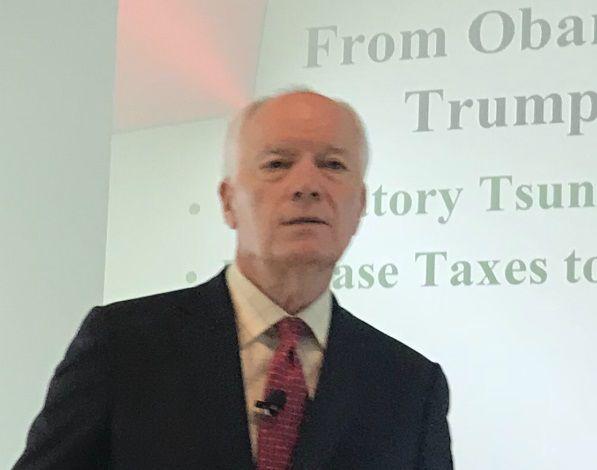 When will a coronavirus vaccine be ready? How long will it take for people to feel comfortable in public settings? Who will be the next president? When will the demand for oil recover?
"We have never encountered so much uncertainty in 39 years of penning the (Louisiana Economic Outlook)," said Scott.
Overall, Scott said Shreveport-Bossier market, which also includes DeSoto and Webster parishes to make up the fourth largest market in the state, lost three large employers this year, leading to the third largest loss at 10,600 jobs or 5.9%. But in 2021, about 6,400 jobs are expected to be added and another 1,000 in 2022.
That would lead to the recovery of about 70% of the jobs lost in 2020. Scott predicts it will take until 2023 to recover all the lost jobs.
The net job loss will make the four-parish market the third hardest hit in the state, leaving the region with 22,700 fewer employed or 11.5% below the peak employment in 2008.
Two of the big hits to the local market this year came from the casinos and energy sector. The casino market – the second largest in the state – was shut down for months during the first phase of the pandemic shutdown, resulting in hundreds of layoffs. Diamond Jacks casino became a casualty by announcing its permanent closure and loss of 300 jobs.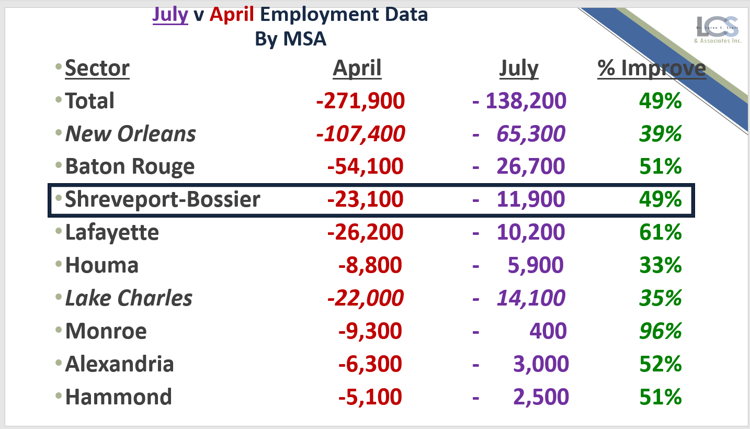 On the positive side, July revenue from the area's casinos are 78% of what was collected at the same time in 2019. And that's despite the 50% occupancy rule after reopening.
Unrelated to COVID-19 but significant as far as job losses were the announcements of the closure of Libbey Glass by year's end and its 450 jobs and the closure of the Dolet Hills Mine and Power Plant in DeSoto Parish, where 155 jobs at the mine and 88 jobs at the plant, respectively, came to and end.
"So those are substantial hits in 2020," said Scott as he  also mentioned temporary layoffs of 375 of 520 workers at Benteler Steel and layoffs at two other oil and gas companies. "It's been a really tough year."
The Shreveport-Bossier market will have a lot to overcome, but how quickly it recovers will fall heavily on activity at the port, the Cyber Research Park and Ochsner Health System, Scott said, teasing that even more prospects could be coming.
Port of Caddo-Bossier
The port offers a helpful source of stability, Scott said. Here are some highlights:
Benteler Steel – Expects to increase employment to 280 in 2021. Spent $1 million on a furnace floor upgrade.
Ternium – Stable with 165 employees. Spending $2.3 million for capital expenditures in 2021-21 that were deferred due to COVID-19.
Omni – Growth over 254 employees expected over next two years. Finishing a $2 million capital expenditure in 2020.
Sports South – Employment stable at 245.
Morris Dickson – Employment stable at 230.
Ronpack – Employment at 150 in 2020, up from 50 in 2012. Adding machines through 2022 and expects future growth.
Pratt – Employment at 118 in 2020. Capital expenditure of $13 million in progress and another $5 million expected in 2021-22.
Calumet Packaging – Stable at 75 employees, with potential of $15 million building addition.
ADS – Fourteen working at warehouse and 7 drivers. Hoping to add 6-7 drivers.
Port – Building $14 million, 100,000 square-foot warehouse for steel products and distribution to be finished in 2021.
There are some "hot prospects" that could improve the picture at the port. One firm being courted would using existing infrastructure, build a $325 million plant and use barges as well. The company is looking for investors, Scott said.
National Cyber Research Park
Another "economic gem" is the National Cyber Research Park, he said. The property includes the General Dynamics IT Center, Cyber Innovations Center and the $22 million Louisiana Tech Academic Success Center, which will employ about 400 people and house professors and staff working on classified research in the cyber field.
General Dynamics is predicted to add 100 to 200 new jobs over 2021-22, and Cyber Innovation Center added 20 jobs this year with another 20 or more expected in 2021-22.
Including the 300-percent call center on Benton Road, the research park employs about 1,200 people.
Yet another boost for the local economy is anticipated with the announcement from CIC CEO Craig Spohn of a new 100-person firm on the combined campus, Scott said.
There are also high hopes the park will land another 600 to 1,000-person company as a result of the Air Force's WERX program that is designed to "engage inter and extra service innovators and entrepreneurs in the operations" of the Air Force.
"Landing a firm of this size would go a long way towards reversing the (market's) recent decline pattern," Scott said.
As for the Air Force, the largest employer in the market, Barksdale Air Force Base in 2020 reversed a decline in the employment of troop and civil workers. Employment is up to 9,206, which is 276 more than the 8,930 employed there in 2019 but still less than the 9,745 in 2012.
A hopeful eye is focused on 2022, Scott said, when the trigger may be pulled on a $170-225 million weapons storage facility at BAFB.
"This would be one of the largest capital expenditures proposed in the region and a great boost," he said.
Ochsner Health System
One of the more promising additions to the region has been the entrance of the Ochsner Health system into north Louisiana, Scott said.
Ochsner took over operations of the LSU teaching hospital in Shreveport in 2018 and reopened the previously closed CHRISTUS Schumpert Hospital under the name of St. Mary Medical Center.
Ochsner had already created 133 jobs at the latter facility. Over the next two years, Ochsner is planning to spend $56 million on these two hospitals and add 425 "nice-paying jobs."
Haynesville Shale
Is there any reason to be hopeful about a revival in the Haynesville Shale, Scott asked. The rig count peaked at just over 140 during the heydays of 2008-09. Currently, there are about 20 rigs.
Last year, the country was awash in natural gas and prices were near stagnant at $2 per MMBtu, which is not good for the dry play, he said. But the "stunning decline" in the U.S. rig count meaning less associated natural gas produced in the shale basin could push up prices to $3.10 in 2022.
"Natural gas pries above $3 per MMBtu could deliver a serious jolt to the Haynesville Shale and get the rig count rising again," Scott said.
Factoring into that is construction of a new LNG project in the Lake Charles that's underway and two more companies on the hunt for investors for one or two more LNG facilities would position the Haynesville Shale to provide the needed natural gas feedstock.
"Indeed, we are aware of at least one pipeline – the Lumberjack – proposed to bring natural gas from the Haynesville down to south Texas to feed those LNG facilities. All this makes us cautiously optimistic about a recovery in the Haynesville over 2021-22," Scott said.
Other wins
Fibrebond in Webster Parish last year reached an agreement with the state highway department to upgrade highways along its route. That meant the 752-person company stayed in Louisiana instead of moving to Texas, resulted in $2.5 million in capital expenditures and the addition of 50 to 75 jobs.
BRF (formerly Biomedical Research Foundation) is expected to have stable employment over 2021-22 with over 600 in the InterTech Park, BRF units and EAP program.
Halliburton is moving its Kilgore location to Bossier City. It employed 223 in Kilgore; not sure how many are moving to Bossier City.
E.I. Williams in Webster Parish, which manufactures sound control equipment, is investing $700,000 in an existing building and adding 100 jobs.
Tomakk Glass Partners adding 50 jobs with a new $1.9 million plant to make tempered glass, frameless shower enclosures and insulated windows.