HAUGHTON, La. - 37 years ago Marvin Dearman was the rescue diver for the Monroe Police Department that pulled Joe Delaney from the waters of Chennault Park on June 29, 1983.
"We actually got a pulse. Then they put him in the ambulance and they took him to the hospital and he died at the hospital," he explains.
Delaney's death after trying to save two children has stuck with Dearman over the years. After the Kansas City Chiefs won Super Bowl LIV, he was inspired to get a monument built for the former Chiefs running back in Monroe.
"I realized it was the 37th year of his death and that his jersey number was 37."
Dearman now works for Kilpatrick Funeral Homes in Monroe - which makes monuments - and he told a friend that writes for the Kansas City Star about his plan.
"He wrote an article about what we were trying to do and ask for donations. He came up with the phase 'donate 37 dollars in honor of number 37.'
All the materials for construction and transportation of the monument were donated so there were no expenses. The money that was raised - $7,992.50 to be exact - had to go somewhere and there was no better place than the Delaney 37 Foundation, which Delaney's widow Carolyn and daughter Joanna accepted Monday.
"I'm just so proud of everybody who's still honoring Joe and knows Joe because it's been a while, 37 years, and you would think people would have forgot that person, but it's just a great honor that they're still honoring him," Carolyn says.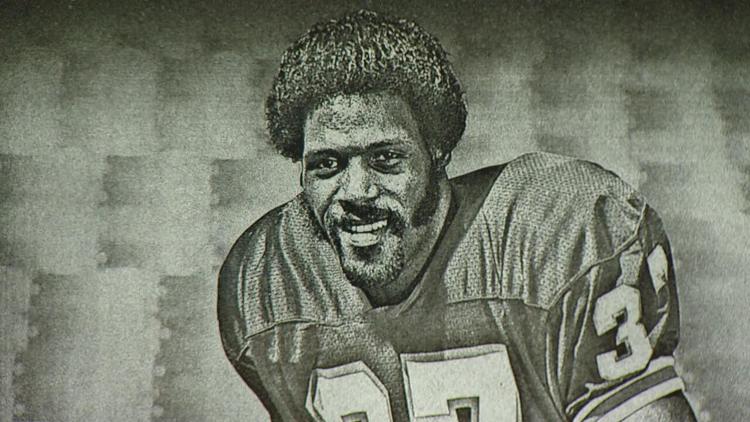 Joanna, who was three months old when Joe died, adds, "Proud. I'm very proud and it's just an honor for him to continue to be remembered by everyone. (It's) overwhelming the nice things that they can say 37 years later so we're very grateful."
Their families came together under tragic circumstances, but the bond between the Delaney's and Dearman has lasted through the decades.
"We appreciate Mr. Marvin for everything that he did 37 years ago and the things that he continues to do now," Joanna says. "We are very grateful to have him a part of our family."
Carolyn echos that sentiment saying, "We invite him (Marvin) to whatever we have. He's always welcome to be around because he's a very great man and we really appreciate it."
Speaking on their continued friendship, Marvin says, "(Carolyn) has embraced me beyond means and she knows that we gave every effort we could to save her husband."