BOSSIER CITY, La. - After missing out on the playoffs in 2018 a fresh look was welcome at Airline.
"You look good, feel good, play good, you know what I'm saying?" senior offensive lineman Craig Ross says of the team's new uniforms.
That's not the only thing different on Airline Drive.
Head coach Bo Meeks says, "We've actually got a locker room upgrade. We got some new carpet, some paint, stained the lockers, got new gear on so we're ready to roll. First day of the year and excited about the opportunity to get another one under our belt."
Wins and losses in District 1-5A meant nothing though after the community learned of Meeks' cancer diagnosis in early 2019.
"It was very tough. I just prayed every time. Just prayed, pushed other people to pray," senior defensive lineman Christian Carradine states.
Ross adds, "Yeah I mean it was really tough, but he'd want us to stay strong so we stayed strong and we thank God every day that he came back okay."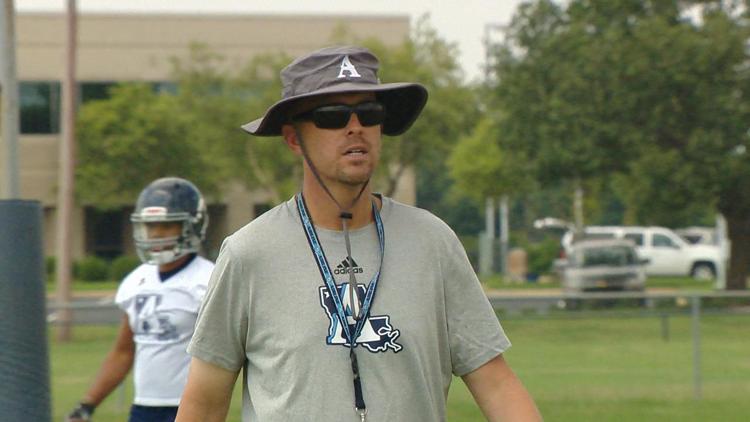 Now with a clean bill of health, Meeks says each moment on the sidelines takes new meaning.
"You know I think it's easy for us in life to not appreciate every day and you have certain things in your life that make you appreciate them and every day we're trying to get better. I'm trying to become a better man, a better coach, you know, and trying to relay that to these kids.
"Hopefully it's an example for them to kind of see how it can be taken from you; you don't know when. So trying to use it in that way, but the biggest thing is getting these guys ready to play. It's about them and the opportunity they have to have a great season."
Ross says of that inspiration, "Just knowing that he came back from a setback, so I feel like he kind of takes that and can apply it to us."
With his attention squarely on the season, Meeks has his team focused on the road ahead.
"Man it's exciting. I promise, I mean we're all ready," Ross proclaims.
"I mean I think a success story is a district championship," Meeks adds.
"That's what we play for every year and to play on Thanksgiving and I think this group has that potential, but the whole key to it is to play into it and not just on Friday night, but preparing to that every day and being ready when those Friday nights come."