STONEWALL, La. - Dennis Dunn is a legendary name in high school football, but some of his new players at North DeSoto needed a refresher.
"At first it was like a little confusing like, what's it going to be like? And then I guess once you start to know Coach Dunn and be with him for a while, he's a good guy," senior safety Matthew Wisher explained.
Senior linebacker Beau Phillips said, "I've heard about him before from my parents. I think some of them (the players parents) knew him, but I've been hearing about him for a while."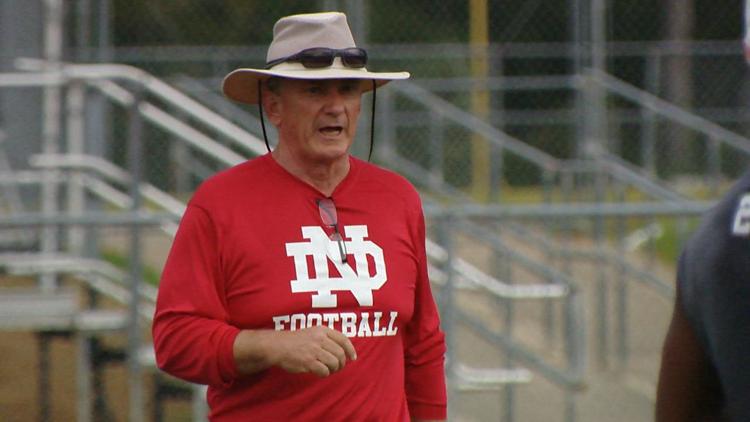 Dunn said of his return to northwest Louisiana, "Well I've been gone 14 years now so these guys, some of them weren't even born when I was at Evangel so that's been a while and maybe they've heard the name. Maybe they've heard some of the Evangel success stories."
That success includes nine state championships with the Eagles and Dunn hopes to bring at least a portion of that to the Griffins.
"There's a lot of things that weren't broke so we're not trying to fix a lot of the program, we're just trying to establish a little bit of our own personality as it relates to what we want to do offensively. Defensively, they've been very good here over the last several years."
The Griffins are dealing with the coaching change despite a winning record from former head coach Scott Abernathy.
Whatever the circumstances behind his removal, the fact remains, there's new leadership in Stonewall and a change in coaching style comes with a change in philosophy.
"For Coach Ab, I guess he was more upbeat while Coach Dunn, he's really motivating, but he's also kind of mellow," Wisher described.
Phillips added, "It's probably the atmosphere that's created. With Coach Ab, he had a very excited atmosphere. He had a fun atmosphere and while the main points of his philosophy stay the same, Coach Dunn is a lot more laid back, straight to the point, very blunt."
Dunn went on to say, "I'm thrilled to be here, to be back home in a way for me and such an exciting time for me and my family to be back in northwest Louisiana and extend my career here for a few more years hopefully."
Dunn's other coaching stops include Woodlawn, Louisiana College and Pineville.