BLANCHARD, La. - Northwood enters 2019 with one of the most potent offenses in Louisiana, but tackle and Ragin' Cajuns commit Cory Marshall said the Falcons are far from complacent.
"We worked pretty hard for it. We obviously got the best quarterback (Luke Bogan) in the state hands down. I mean (we) come out here and work every single day. We don't think about it as we're the best offense in the state, we think about it as we need to get better."
One key to that outlook is wide receiver Detraveon Brown, who enters his senior season as the number one option.
"Detraveon, he can do it all," Marshall added. "He's fast, he's big, he can catch the ball, he can jump for it, one hand, anything you need he's going to be there for you."
Head coach Jim Gatlin said of his pass catcher, "We've got some other receivers that are going to surprise people that people don't know about yet so our receiving corps is in real good shape, but it'll start with Detraveon Brown."
Being one of the most sought after recruits in the entire state of Louisiana can come with plenty of distractions, but Detraveon said he has his focus on the team.
"I've been focusing on my senior year. I really ain't been worrying about my recruitment. I'll handle that when the season's over with. I'm just trying to finish my senior year with my guys and try to win a state championship," Brown explained.
The Falcons were two wins away from playing for the LHSAA 4A title last year and even with a tougher District 1-4A slate this season, that hasn't altered their goals.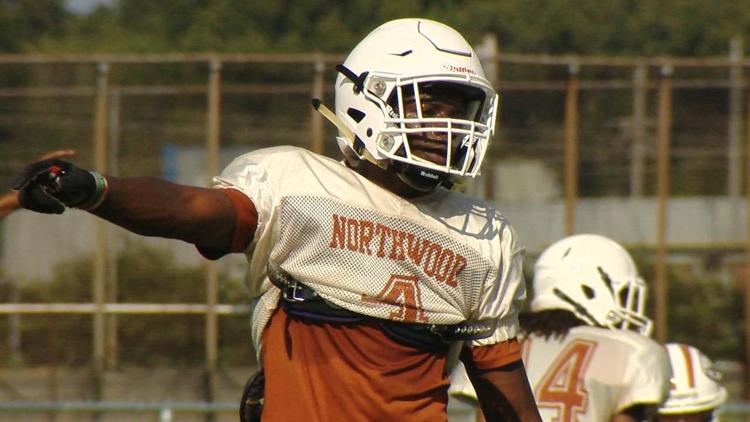 "Yeah we want to prove everybody wrong because we know everybody is going to come after us because we won district last year and nothing is going to be easy. It's going to be good games this year, we got a good schedule," Brown said.
Gatlin reflected on what lies ahead stating, "They know the district's changed a little bit with Evangel coming in our district and us playing them and actually, when you combine the Nevilles and the Bastrops and the Franklin Parishes, whoever is the district champion in this district is going to do well in the state playoffs."
Senior Arman Coatney wasn't shy about the matchups saying, "We love it, we love every single moment of it. All of the talking on social media and everything, we loving it.
"We got to go to state. There's no if, ands, or buts about it, we got to go to state."
Northwood opens the season against Mansfield September 6.