TEXARKANA, Ark. - The Farmers Bank & Trust Live United Bowl in Texarkana, Arkansas draws thousands of football fans to the area, boost the local economy, and gives back to a great cause.
The teams for this year's bowl game were announced Wednesday morning at Arkansas High School.
Coaches from Southeastern Oklahoma State in Durant, Oklahoma and Emporia State University in Emporia, Kansas were also on hand to discuss the match-up.
It is one of only three NCAA division two sanctioned bowl games.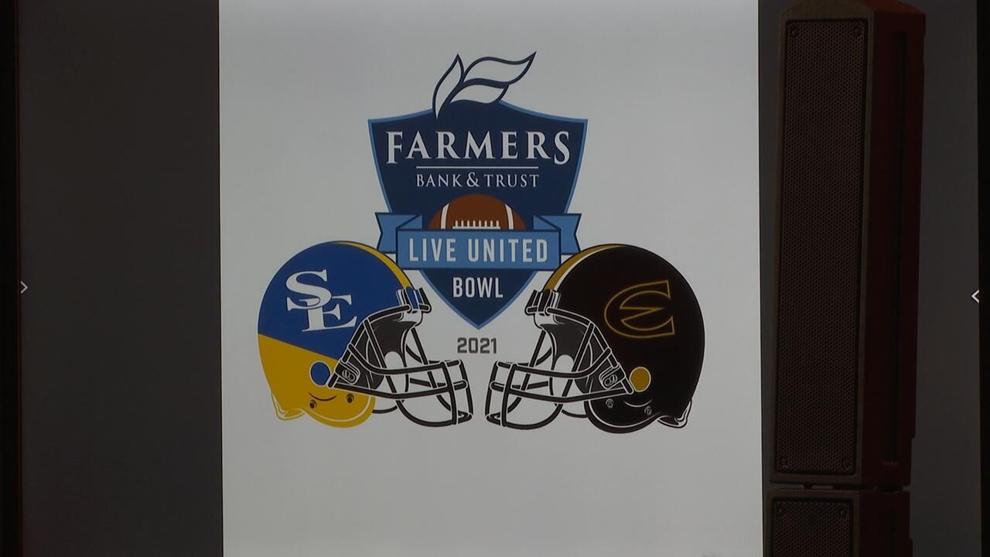 Each team brings at least 90 players to Texarkana during their three-day visit.
"It is about putting people in hotel rooms and people eating in the restaurants to make your community thrive, and by the benefactor of that we're also able to raise money for the United Way by the proceeds of these ticket sales for this game. It's a win-win for all of us," said Allen Brown, Live United Bowl Chairman.
Over the last eight years, the Live United Bowl has raised about $80,000 for the United Way of Greater Texarkana.
This year, they're hoping to hit $100,000.
The game will be played at noon on Saturday, Dec. 4 at Razorback Stadium.
Tickets are $10 for adults and $4 for students.
Tickets are on-sale now at any Farmers Bank & Trust location, any Mil-Way Federal Credit Union location, the Texarkana Chamber of Commerce, or the United Way of Greater Texarkana office or can be purchased online at www.liveunitedbowl.com.
Student tickets are not available online.
Teams will arrive late afternoon on Thursday, Dec. 2 at their hotels within the Texarkana Arkansas Crossroads Business Park.
During their time in Texarkana, teams will participate in local community events by visiting local United Way agencies to lend a helping hand.
Both teams will practice on Friday afternoon and practice is open to the public.
The Jeans, Boots and BBQ Banquet will be held from 6 p.m. to 8 p.m. on Dec 3 at the Texarkana, Texas Convention Center.
Tickets go on sale soon, online only, for $25 per person at www.liveunitedbowl.com. Tickets are limited.
The community pep rally will follow the banquet at 8pm, also scheduled at the Texarkana, Texas Convention Center.
Admission is free and the community is encouraged to attend.