BOSSIER CITY, La. - LSU wide receiver Terrace Marshall Jr. thought it was just going to be a typical day in his hometown.
"I ain't know nothing about this. I thought I was just coming to eat a normal dinner with my girlfriend, but I guess it turned out to be more than that."
Marshall was welcomed with applause and cheers as he walked into the Shane's in Bossier City as family and friends celebrated his part in LSU's national championship.
"He is totally surprised," Terrace's mom, Meoshia Brazzle, explained. "He told me, 'Mamma, you got me on this one' and I know he's glad to see them (family and friends) come out and support him."
Things came together in a short amount of time as Marshall's parents learned their son was coming into town Thursday, and by Saturday afternoon, the stage was set to give the Tigers star something unexpected.
"I instantly felt the love man," Marshall said. "The love from my family, love from my friends, love from the city. I mean I'm just grateful to be able to have the support system like I do."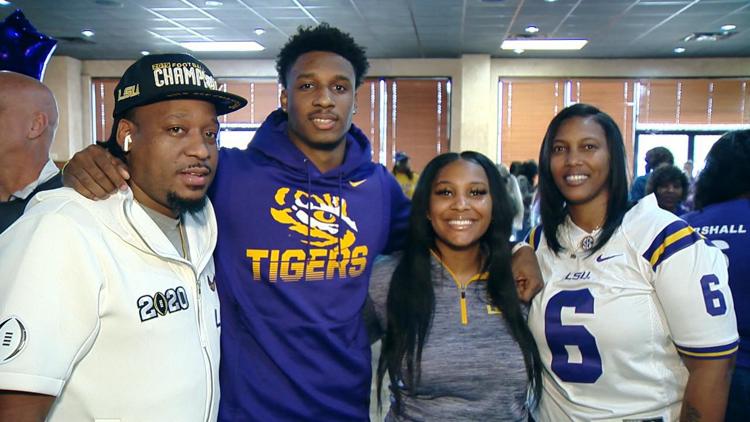 His father, Terrace Marshall Sr., said his son's accomplishments made him "very, very proud."
He added, "Just knowing the hard work that he put in and I know he was so, so deserving. So we give all our honor to God and I know everything happened and everything is meant to be."
Brazzle said she was happy to put a smile on her son's face even if he wasn't keen about the attention he might receive. 
"It means a lot. I actually asked him about doing a celebration and he said 'No, ma'am. That's not something that I want,' but me being momma I did it anyways."
Marshall caught 13 touchdowns for the Tigers in his sophomore year including the game-clincher against Clemson in the national championship.