SHREVEPORT, La. - Finally, the rain is gone.  But, the damage has been done with many areas under water.  Here are some of the KTBS 3 Weather Watcher totals.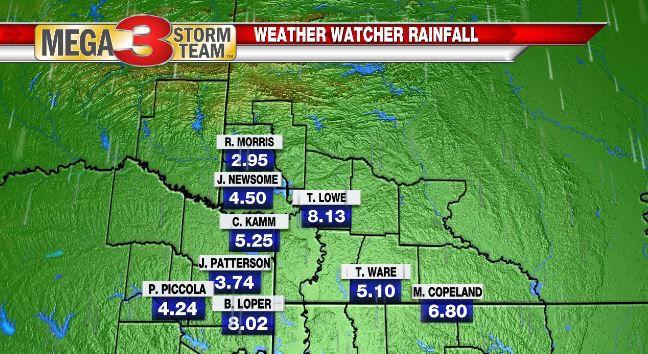 Marilyn Copeland, Summerfield LA:  6.80 inches
Chuck Kamm, Redwater TX:  5.25 inches
Brian Loper, Atlanta TX:  8.02 inches
Tommy Lowe, Fulton AR:  8.13 inches
Robert Morris, DeQueen AR:  2.95 inches
Jimmy Newsome, Ashdown AR:  4.50 inches
Jason Patterson, Atlanta TX:  3.74 inches
Paul Piccola, Hughes Springs, TX:  4.24 inches
Thomas Ware, Emerson AR:  5.10 inches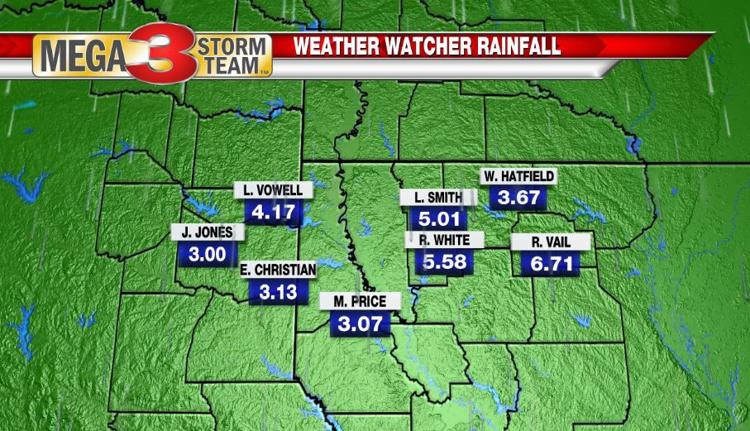 Edwin Christian, Scottsville TX:  3.13 inches
Wayne Hatfield, Homer LA:  3.67 inches
June Jones, Elysian Fields TX:  3.00 inches
Michael Price, Keithville LA:  3.07 inches
Leslie Smith, Minden LA:  5.01 inches
Ronnie Vail, Ruston LA:  6.71 inches
Lenny Vowell, Karnack TX:  4.17 inches
Richard White, Minden LA:  5.58 inches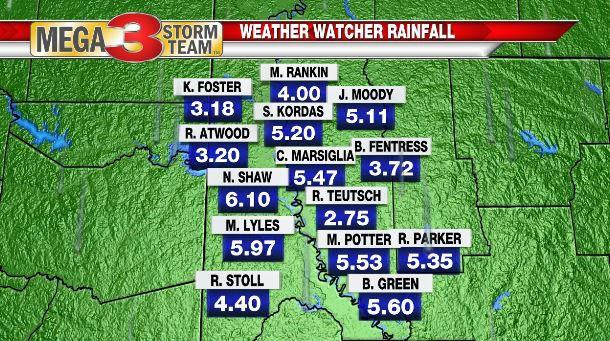 Ruth Atwood, Shreveport:  3.20 inches
Bob Fentress, Belleview LA:  3.72 inches
Keith Foster, Blanchard LA:  3.18 inches
Barry Green, Bossier City LA:  5.60 inches
Skip Kordas, North Bossier City LA:  5.20 inches
Jeff Moody, Benton LA:  5.11 inches
Mike Lyles, Shreveport:  5.97 inches
Chris Marsiglia, Bossier City:  5.47 inches
Robert Parker, Bossier City:  5.35 inches
Mark Potter, Bossier City:  5.53 inches
Molly Rankin, Benton LA:  4.00 inches
Robert Stoll, Caddo Parish:  4.40 inches
Neil Shaw, Shreveport:  6.10 inches
Russell Teutsch, Bossier City:  2.75 inches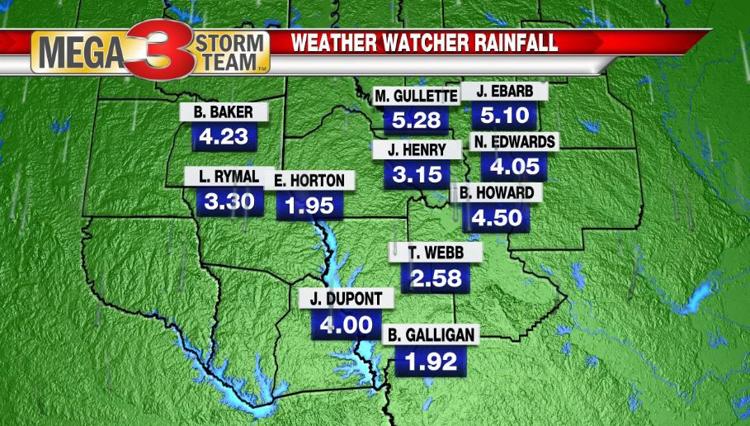 Bob Baker, Carthage TX:  4.23 inches
Jerry Dupont, Many LA:  4.00 inches
Jim Ebarb, Ringgold LA:  5.10 inches
Nancy Edwards, Jamestown LA:  4.05 inches
Bill Galligan, Toledo Bend:  1.92 inches
Michelle Gullette, near Ringgold LA:  5.28 inches
John Henry, Coushatta LA:  3.15 inches
Elinor Horton, Logansport LA:  1.95 inches
Barry Howard, Clarence LA:  4.50 inches
Larry Rymal, Joaquin TX:  2.51 inches
Troy Webb, Noble LA:  2.58 inches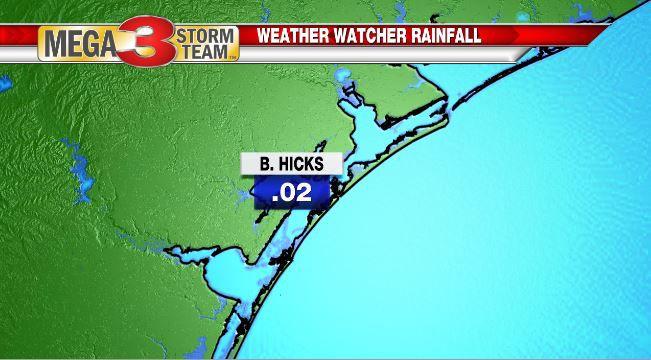 Bill Hicks, Rockport TX:  .02 inches.
Thank you weather watchers for your data.  If you want to join our group, register here and send us your weather data.