SHREVEPORT, La. - The Shreveport National Weather Service has confirmed two tornadoes from late Wednesday in the ArkLaTex.  One, an EF-1 with 88 mph winds occurred near Haworth Oklahoma in McCurtain county.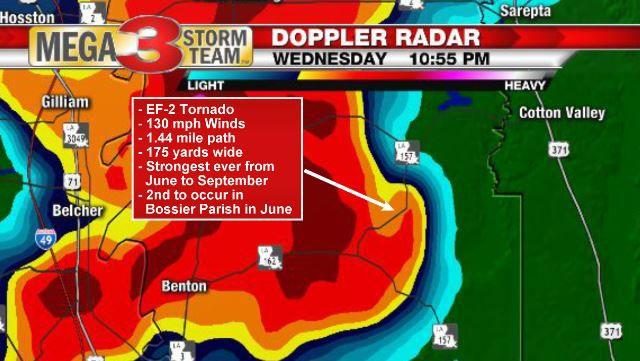 The second touched down northeast of Benton, Louisiana.  It was an EF-2 with 130 mph winds.
The weather service states the Benton tornado was a rarity...first, for it's strength.  Squall line storms tend to be much weaker.
Next, this storm was the strongest to occur in Bossier parish during the period of June to September.  Usually by this time, the ArkLaTex is basking in the Summer doldrums.
Finally, the twister is only the second ever to form in Bossier parish during the month of June.
For more information, check out this link:  Shreveport National Weather Service Storm Survey from 6/19/19.